CRKT M40-03 Knife, by Pat Cascio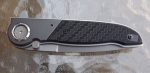 I couldn't tell you, dear readers, just how many knives have passed through my hands in the last 28 years, as a writer. However, I'm sure it has been several thousand knives. And, I can only write about a very few of them. So, I'm very particular about which knives I choose to test and write about – and it is only the best of the best, for the most part. But every now and then, I'll get a knife that is so poorly made, that I feel the need to let folks know about it – and to steer clear of it. This article is not one of those instances.
I've been writing about Columbia River Knife & Tool (CRKT) products since they first got off the ground, with the Apache folder, and I wish they would bring that folder back, with some better materials – I really liked it. I wish that I still owned that one – however, someone stole it off a table I had at a gun show some years back, and I never replaced it, before it was discontinued but CRKT. When working a table at a gun show, all alone, it is impossible to keep your eye on everything, especially when you are discussing a knife or gun potential purchase with another customer. The sad thing is, the Apache sitting on the table wasn't even for sale – I had been using it, and set it down on a table, instead of putting it back in my pocket.
CRKT is well-known for doing collaborations with knife makers and designers, I should know, they produced my OC-3 fixed blade double-edge fighting knife for several years. I can design knives, but for the life of me, I can't make them, and that is where custom knife maker, Brian Wagner, came on the scene and he took my rough drawings and produced the OC-3 exactly as I envisioned it – on the first try. I don't believe any other major knife company is doing nearly as many collaborations as CRKT is doing, and I've turned them on to a couple outstanding custom knife makers and their designs, and they did a collaboration together.
A Carson Design
The M40-03 was designed by the late custom knifemaker and designer, Kit Carson. If you don't know the name, do a Google search. Sad to say, Carson, passed away a few years back. However, CRKT is still producing many of his outstanding designs. The M40-03, and this design was discovered in a knife collection – don't know who's collection – but CRKT decided to produce this folder, and it is on outstanding EDC (Every Day Cary) folded. It has the Kit Carson "flair" to it, no mistaking his design talent.
Some of the specs on the M40-03 are as follows: The blade is 3.45-inches long and is made out of 1.4116 stainless steel. I wasn't familiar with this particular steel, but after some research, it seems like a great choice. The blade is bead blasted for a nice subdued look to it. The knife weighs in at 4.20-ounces, so it's in that "just right" weight category if you ask me – not too light and not too heavy for everyday carry and use. The folks at CRKT decided to add the Deadbolt locking mechanism, to this folder, and it might just be the strongest lock on a folding knife, yet! I've tried to overcome this lock and failed.
The blade has a flipper on it, and it doesn't take much effort to "flip" the blade open, with very little pressure on the flipper. The IKBS ball-bearing pivot system deploys the blade easily and is butter smooth. Glass-reinforced Nylon and Aluminum bolsters on the handle is strong and very lightweight – looks amazingly classy.
There is also the almost mandatory pocket clip, for front pocket carry – used to be, all folders either fit in the bottom of your pants pocket, or a sheath on a belt. So, the pocket clip has been a real blessing on folding knives if you ask me. The clips are positioned so, the knife will ride high in your pocket, for faster access, or a little bit lower in the pocket, so it isn't very noticeable – I like the clip that allows the knife's handle easy access – not that I've ever had to do a fast-draw to get a folding knife out of my pocket.
On lesser, mostly no-name folders, that have a pocket clip, the clips are usually not properly heat-treated, and can (and do) bend out of shape and/or break off in short order. I have had this happen a number of times over the years, and just try to find a replacement pocket clip from one of those companies – it often can't be done. On some smaller folding knives, I really like a pocket clip – you can clip those smaller folders to a shirt pocket for even easier access, and if you happen to be wearing a suit or sport jacket over your dress shirt, no one can see the knife clipped in your front shirt pocket. Nice!
My Practical Tests
I really like the M40-03, and carried it for the better part of three weeks, in my right front cargo pants pocket, and used it almost every day for that period of time. Needless to say, the knife came scary sharp, right out of the box – used to be a time, when most knives were just "okay" in sharpness – not so these days. If you purchase a knife from any of the major knife companies, they come very sharp, right out of the box. Speaking of sharpness, if all my use of the M40-03, it never got to the "dull" – but I easily put a factory edge back on it, with a set of crock stix in just a minute or two. I don't let my knives get dull – a touch-up once a week or every couple of weeks, keeps a great edge on the blade and it is easy to keep that edge.
As is my habit, I showed the Carson folder, to the guys at my local gun shop, and all of them said the same thing "sweet" – they loved it – not too big and not too small. Of course, some of the customers handled the folder as well. You see, I tend to spend too much time in the gun shop, so lots of folks got to handle the Carson folder, and everyone had very positive comments about it – not one single negative comment was said.
Of course, in my testing, I opened all kinds of cardboard boxes that come almost daily from USPS, UPS and FedEx – and cardboard really dulls a blade in short order. I tested the blade against our never-ending blackberry vines, and they are very tough and fibrous – hard to slice through. The folder easily sliced through these vines with a single swipe of the blade. There is one super-thick blackberry vine in my yard that is really THICK and only a few knives have sliced through it with one swipe of the blade – and I've even used a machete on it…most folders just aren't up to the task on this one big, thick vine – not even the Carson M40-03.
I used the Carson around the kitchen, and at the kitchen table – for cutting meats and veggies – we don't eat a lot of steak at our digs – too expensive – but every now and then, we find a deal on cheap steaks, and the M40-03 made easy work of cutting up this meat at the kitchen table. Actually, we have found that, in some cases, steaks are less money than ground beef is.
I used the folder for simulated self-defense work – I could easily "stab" it to the hilt in stacked cardboard boxes, and I'm running out of those. I could hang some cardboard up and in a slicing motion, cut through the box from side-to-side, without much trouble – these are self-defense moves that you might use against an attacker.
A word on the Deadbolt lock, as I already mentioned, it may just be, the strongest lock on a folding knife to date. It is amazingly strong. It is easy to disengage, once the blade is locked open. There is a big button on the handle, and with some pressure against it, the Deadbolt will release the blade and you can then press the blade back into the handle. It is one of those "why didn't I think of that" designs – I could be rich now, if I had designed it.
There's not much I can complain about with this folder, and best of all, the full retail price is only $109.99. However, if you shop around on the 'net you can find it deeply discounted – like so many other CRKT products are. They produce cutlery that is affordable for the everyday guy or gal if you ask me. If you're in the market for a new EDC folder, then check out the M40-03, I think you will like it a lot – there's nothing I didn't like about it – just a first-class folder, with everything you need and nothing you don't need.