Best Ice Cleats for Shoes & Boots – Winter Walking Traction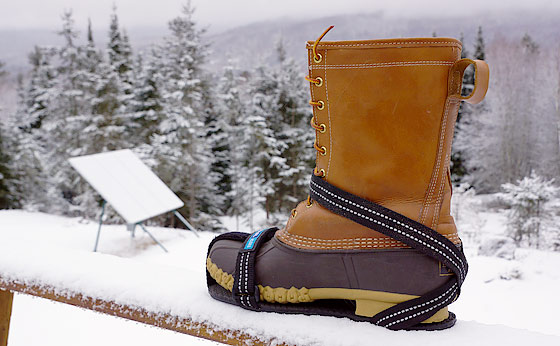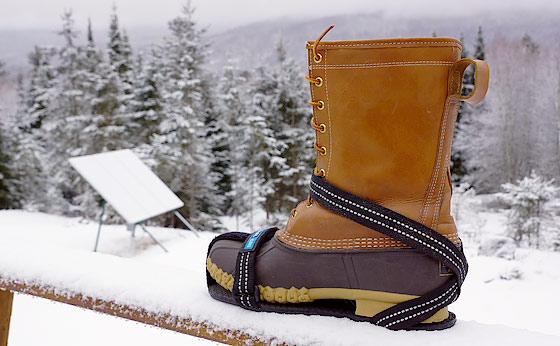 I'm going to recommend what I believe are the best ice cleats for boots (years of personal experience). I will also suggest the best ice cleats for shoes (every day walking and chores) based on research and reviews. And finally, the best aggresive crampon / traction cleats for ultimate grip, especially for hiking or mountaineering on icy trails.
Most of this post will describe my experience with STABILicers. Mrs.J and I each have a pair. They get plenty of use around here on the homestead during winter.
However I will first place the three recommendations right up front for your reference:
Best Ice Cleats For Boots
I have a pair of these STABILicers (their latest 'Maxx' model) as well as their original Maxx:
STABILicers Maxx 2 Heavy-Duty Traction
STABILicers – all models (made in USA > Maine)
(view on amzn)
Size chart:
X-Small (fits shoe sizes W6.5-8, M5-6)
Small (fits shoe sizes W8.5-9.5/M6.5-7.5)
Medium (fits shoe sizes W10-12, M8-10)
Large (fits shoe sizes W12+/M10.5-12)
X-Large (fits shoe sizes M12.5-14)
XX-Large (fits shoe sizes M14.5-16)
Best Ice Cleats For Shoes
These fit ordinary boots too. But they are well designed to slip on to your shoes for every day outdoor chores on an icy surface. The recommendation is based on well researched 3rd-party testing of 14 different traction devices.
Both of these ice cleats are the same thing, made by the same company. Just different brand names. So pick the one that's cheaper.
ICETrekkers Diamond Grip
(view on amzn)
Sizing is as follows:
Small fits men's shoe size 5 – 6 / women's shoe size 5 – 7
Medium fits men's shoe size 6.5 – 9 / women's shoe size 7.5 – 10
Large fits men's shoe size 9.5 – 12.5 / women's shoe size 10.5+
X Large fits men's shoe size 13+
NOTE: Hiking/Work boots add 1 size to assure proper fit. Oversize/Insulated boots add 2 sizes.
Best Ice Cleats For Hiking & Mountaineering
This Hillsound Trail Crampon Ultra design is the most aggressive traction gripper you can get without going "full crampon".
Multi-angle stainless steel spikes attached to six metal plates all create excellent grip and traction.
"Despite the name, the Trail Crampon Ultra is not a pair of actual crampons, which are rigid devices that mountaineers use to traverse hard or vertical ice."
They will fit over shoes or boots.
Hillsound Trail Crampon Ultra
(view on amzn)
Hillsound Crampon Size Chart: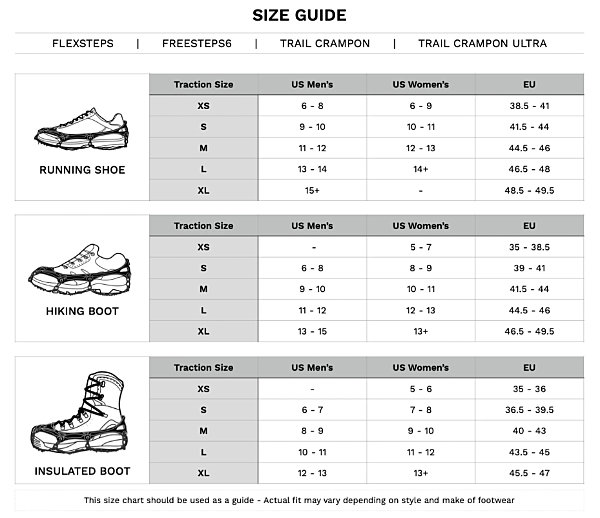 Why I Like My STABILicers Ice Cleats
We have been using our STABILicers quite a bit around here. We've been using these specific ice cleats for several years. They are still performing like the day we bought them. No damaged or lost cleats.
I intentionally paid more for the best cleats I could find. Why? Because I learned my lesson the hard way. We went through several pairs of cheap ice cleats. They were terrible. Always popping off and losing cleats!
I really liked that these were made in the USA. In my neighboring state of Maine. I love to support made in America when I can.
Listen, it doesn't take a genius to know the importance of traction on ice and slippery packed snow. Ice cleats provide safety and confidence.
There are plenty of uses for Ice Cleats:
shoveling
snow-blowing
going out to get the mail
putting the garbage out
doggy potty duty
ice fishing
taking a walk
any outdoor chore!
Let me tell you something… All it takes is one fall on the ice or snow and you could break a bone, a hip, or even suffer a concussion. This is serious, so you should take it seriously. Get yourself some cleats for your boots!
These are my STABILicers (original) Maxx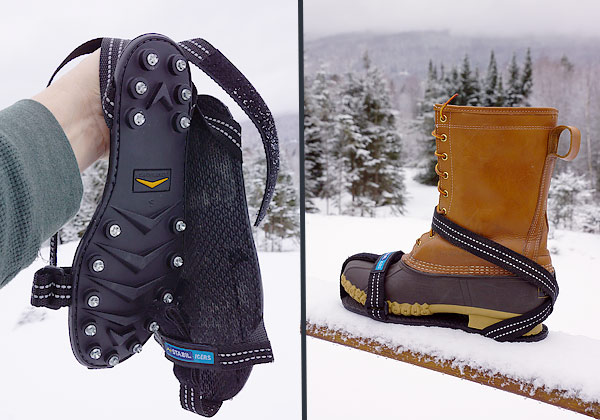 Why are these one of the best ice cleats?
Easy on, Easy off
Adjustable Velcro straps for the toe and for the heel make it very easy to get these cleats to fit. Some of my issues with other types of ice cleats include a general poor fit (rubber stretching over the boot – but never seemed to fit securely).
Once you've adjusted the Velcro toe strap you can just leave it that way. It will slip on and off your boot with ease.
What I really like is the rear Velcro strap which wraps around the heel of the boot as pictured.
Easy on, Easy off! These cleats are going to stay on the boot and not fall off!
Incredible grip on the ice
The most important job of the cleat is traction, and these cleats are great at it. You can see in the picture how rugged these cleats are, and let me tell you they grip VERY securely as you walk. These cleats do not look like they will wear out anytime soon, that's for sure…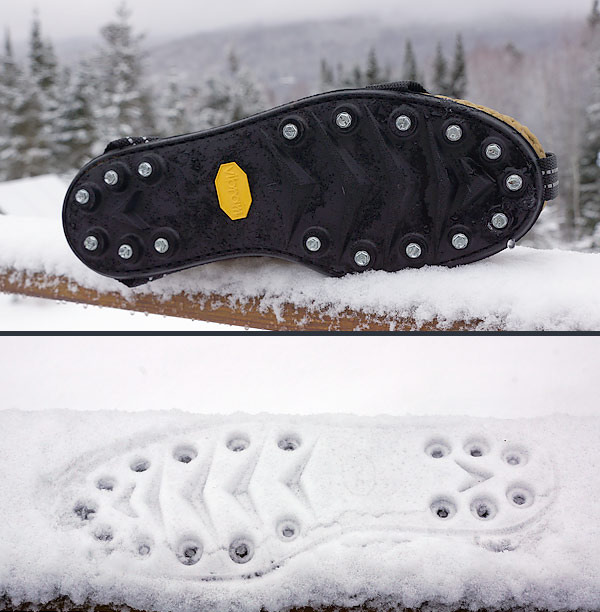 ice cleat tread pattern
Full 'Vibram' soles
Heavy duty full sole supports the boot itself.
These STABILicers use a proprietary 'Vibram' sole design which makes this boot cleat 'solid'. Unlike other ice cleats, these are designed such that the entire sole (with it's unique tread) and attached cleats are doing all the gripping work. Your boots simply are strapped to them.
Best reputation and reviews
When looking for any product it's good to read about what others are saying.
TIP: Take ice cleats off if walking on concrete. They tend to slip and cannot gain traction on that type of surface! Common sense: remove while indoors.
(This post has been updated to reflect latest recommendations)