Brandywine Tomatoes, Jalapeno's, and New Ace Bell Pepper Bumper Crop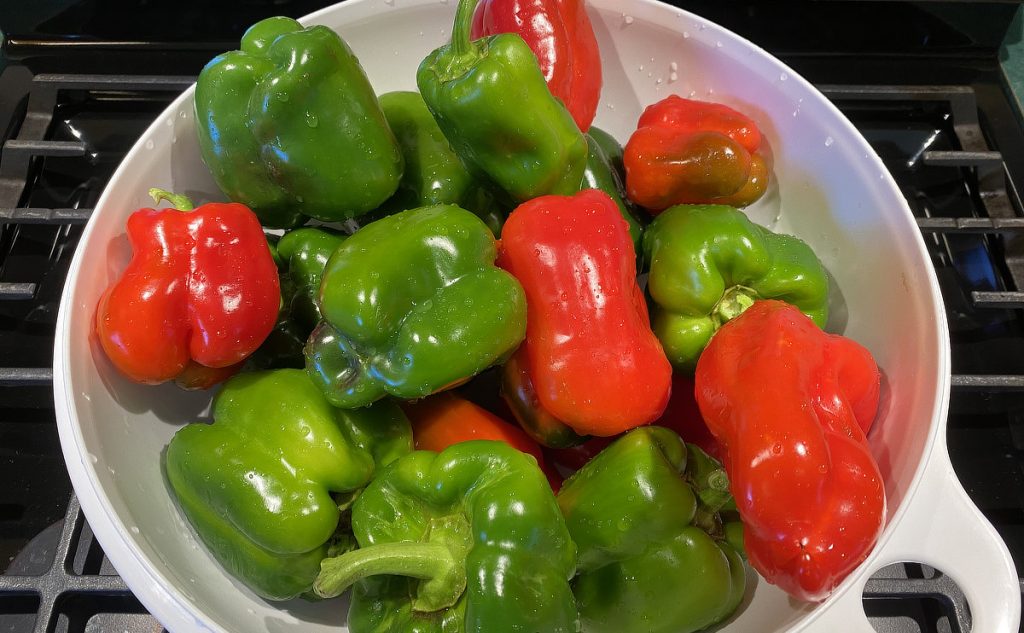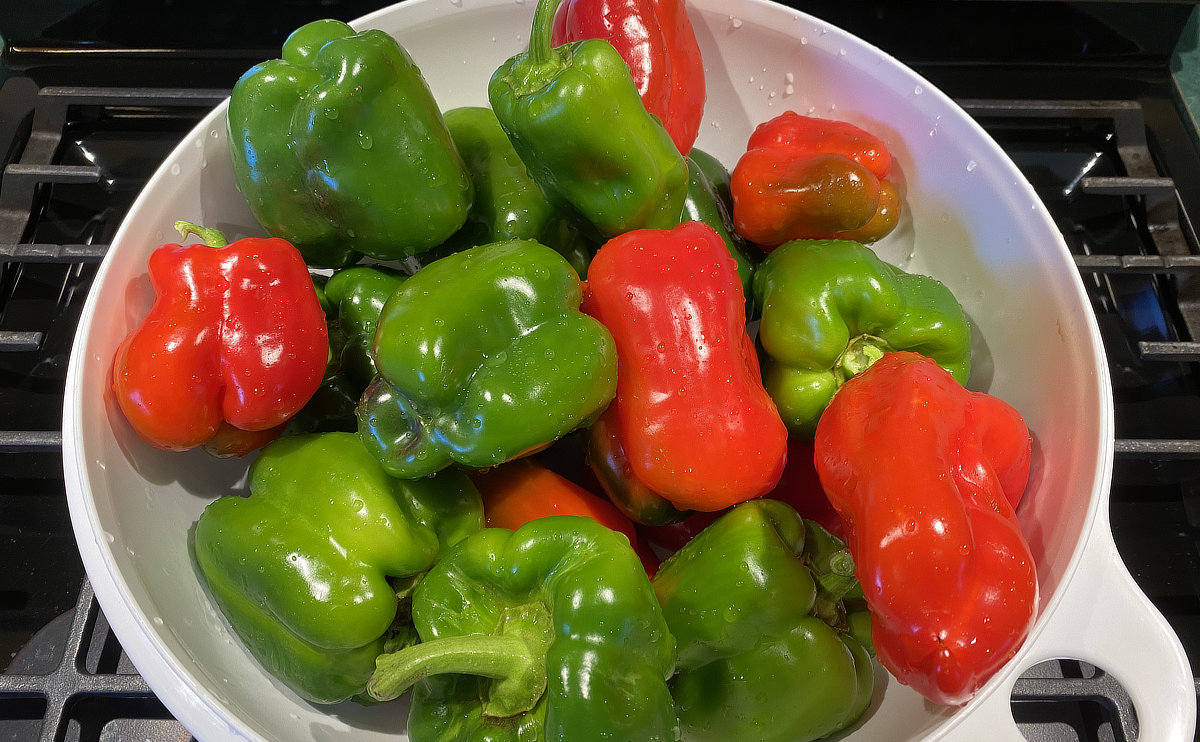 My Red & Green Bell Peppers
OH MY GOODNESS! My pepper crop is OUTSTANDING this year! The " New Ace " Bell peppers and jalapeno peppers have been very healthy and very prolific.
Doesn't that photo bowl of red and green peppers make your mouth water?! And that's just a tiny sliver of what we're harvesting this year.
I cannot even begin to explain the taste difference between these homegrown peppers and store-bought peppers. Oh my word…
Here's a picture this morning of just one (of 48) pepper plants. They're all loaded… If our season doesn't end early with a frost, we're going to have "tons".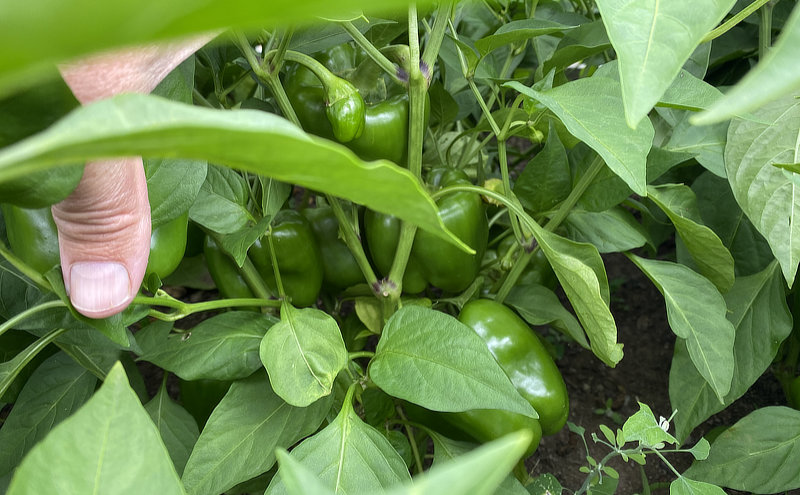 My Jalapeno Peppers
Here's one of my jalapeno plants just before harvest last week. There are still lots more of these peppers growing…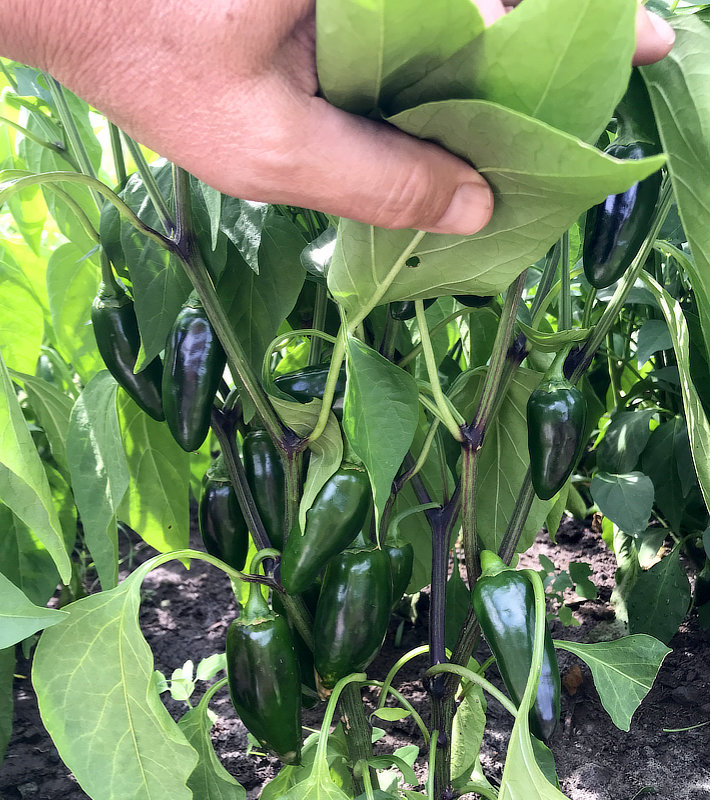 "Hey Ken, what do you do with all those peppers?! There's no way you can eat them all!"
How I Preserve Them
Great question! We core the Bell peppers, and then slice them into strips. Jalapeno's are not cored – but simply sliced across. We process immediately after harvest (it makes a big difference!). Then we vacuum seal portions into small vacuum seal bags. After that, they go in one of the chest freezers.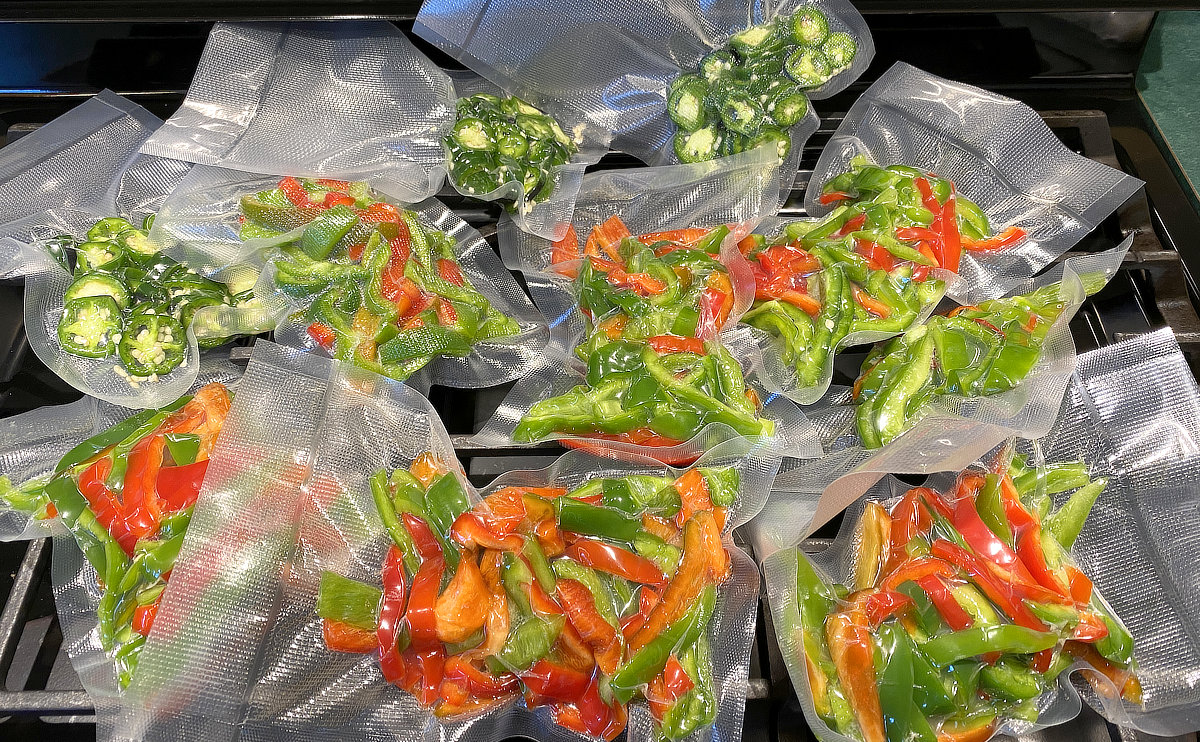 Here's a bag of vacuum sealed jalapeno peppers: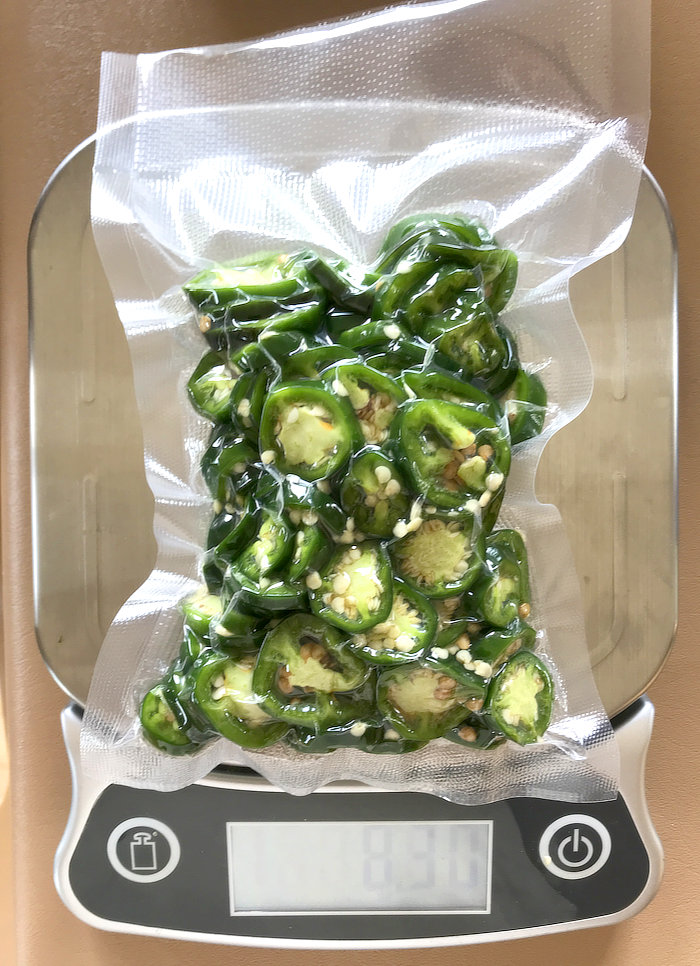 The BEST Tomatoes In The Land
Hey, lets talk tomatoes! I have a new absolute FAVORITE tomato. And that is the Brandywine Heirloom! Words cannot begin to describe how absolutely astonishingly good and yummy these tomatoes are!
Here is one of my mature Brandywine tomato plants. They did extraordinarily well this year.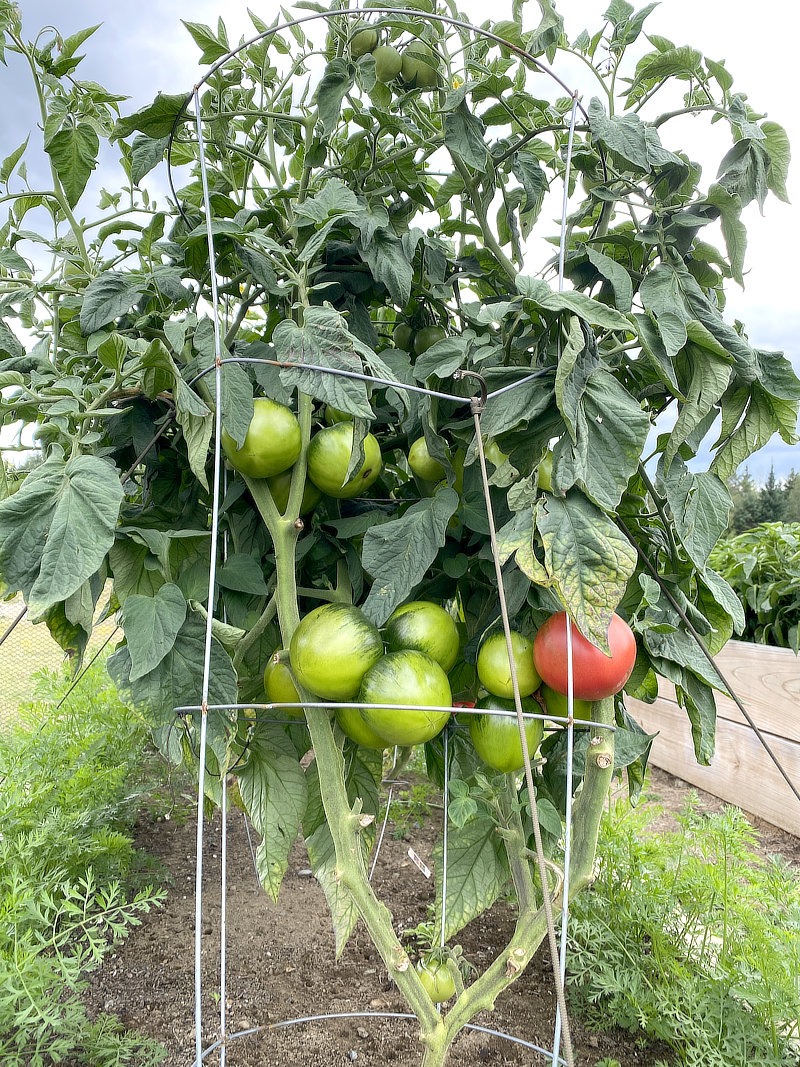 The tomatoes are generally quite large. There's one in particular that is about 8 inches across!! Several pounds at least! Here's a picture of it: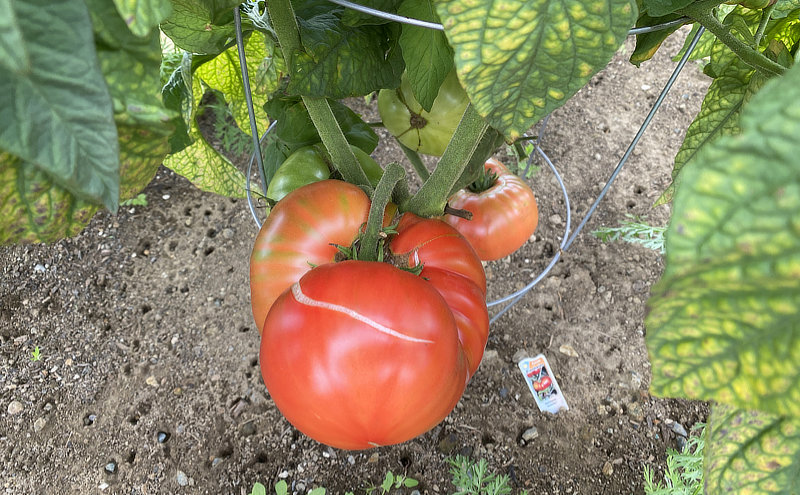 Let me tell you this… Brandywine tomatoes are extremely good tasting. They're very juicy. The internal meat is deep red colored. They taste sweet, sweet, sweet! Don't you wish that you could pick up one of these tomato slices and eat it?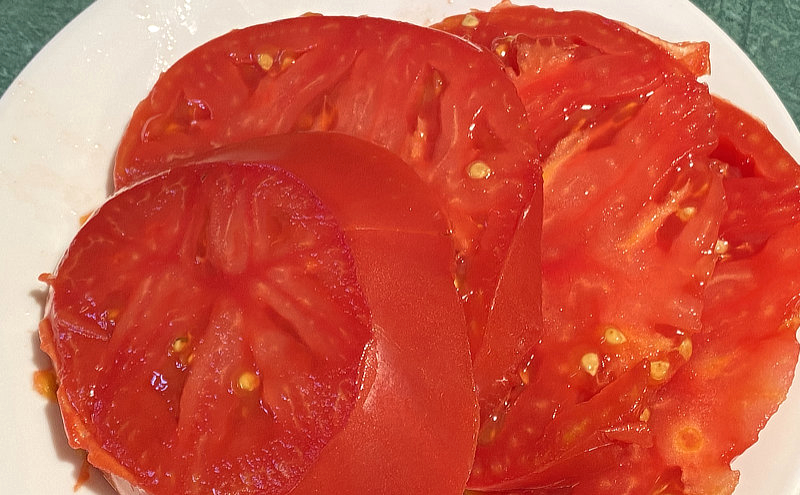 I wish I could grow these all year long. But unfortunately our summers are short! They're so good that I might try (for fun) growing one indoors this winter with a grow light.
Okay folks… I just thought that I would share the delish with you. Harvest is always such a nice time!
How's your harvest going?