What I Did To Prep This Week: August 23rd – August 29th 2020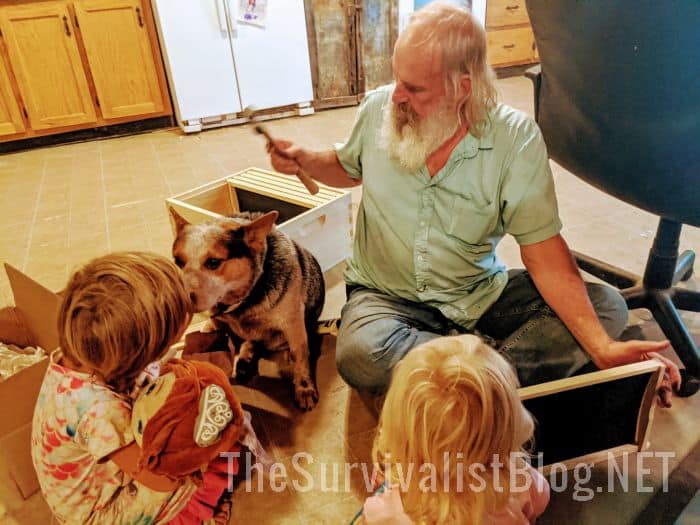 Hello Pack. I hope you have all had a productive and educational week of prepping. There is so much going on in our country at this time, being prepared is even more important than ever … but I am sure y'all know that.
Thankfully, more folks are being awakened to the need to at least stockpile food, water, and other basic supplies after the pandemic panic – hopefully that habit does not become just a passing fad.
On our survival homestead this week we expanded our beehive, as shown in the photo below, Papaw had ample help assembling the new box and frames. A brood just recently hatched and the set of two deep hive boxes have gotten quite full.
In other preps this week, I have been able to finally harvest copious amounts of herbs and tomatoes.
I spent three hours crumbling dried ironweed, mullein, and goldenrod that I had been drying and storing it away in labeled containers. If you have never tried it, ironweed tea is quite tasty when a bit of honey is mixed in.
Firewood is an ongoing prep, as is getting the last of the hay in. We are going to go ahead and buy all the bags of grain we think will be needed for winter and stockpile them in the workshop now. That is a larger expense purchasing them all at once, but we just feel more prepared having all the feed the animals will need for the winter put up – just like we do with hay.
Soon it will be time to head South to attend Prepper Camp once again. I would once again urge all of you to go but tickets are now sold out. My beloved and I are now pouring over the plethora of classes to narrow downs which ones we are going to attend.
Typically, there are 8 classes offered at the same time during the three day even in Saluda, North Carolina. I love the way Rick and Jane Austin set the schedule so it allows you to hit as many classes that you want to experience to enhance your self-reliance skills, even if they conflict on the schedule.
This Week's Questions
If you could attend or teach one class at a self-reliance camp, what would it be and why?
What is the best survival or homesteading event you have attended and why?
Do you think liberals will continue pushing the pandemic fear right up through election day 2020?
What did you do to prep this week?