Massive Grid Down Leads To Collapsing Infrastructure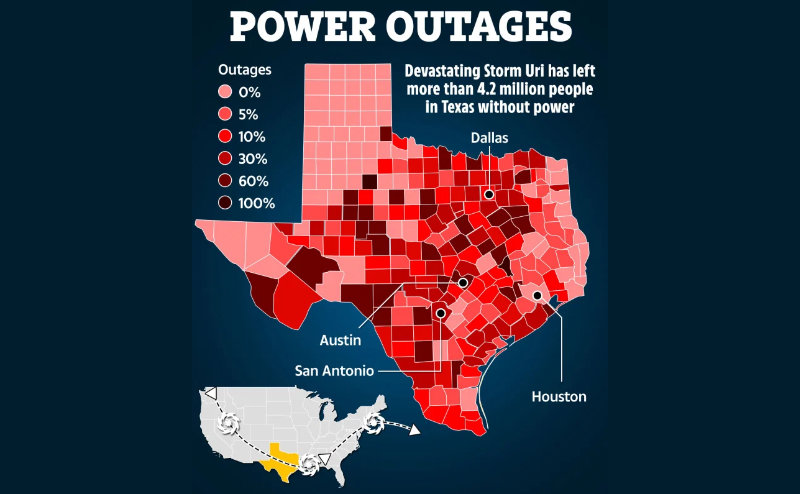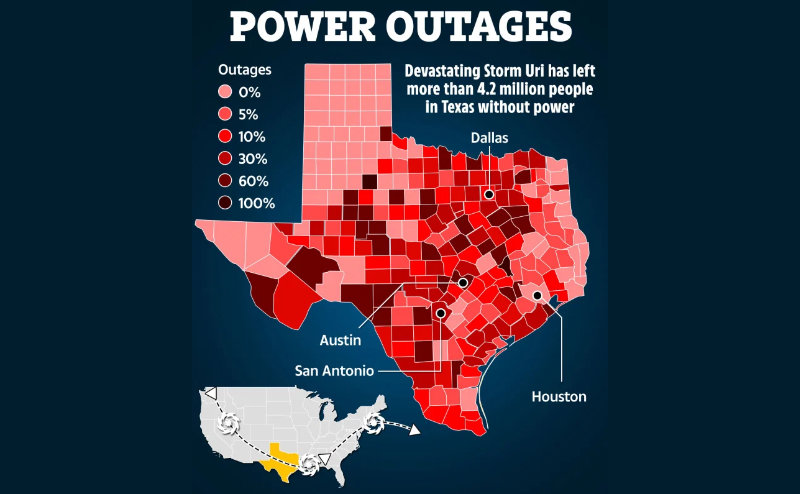 A record breaking massive winter storm teaches us many important lessons for preparedness!
A huge polar vortex of extreme cold air plunged deep into the country during mid February 2021. This led to massive demands for electricity as home heating systems strained the electric grid.
Making matters worse, the development of a wide swath ice & snow storm crippled a huge land mass area, including power generation plants. Effects were felt deep into Texas all the way into the northeast.
Headlines the morning after…
"4 Million Texans Without Power Amid Grid Collapse, As Second Storm Nears".
4 million (just in Texas, not counting other states..) without power during an extreme cold weather event. That's in a region ill quipped to deal with this type of weather. An extremely dangerous situation to say the least.
Blackouts set off a chain reaction of problems.
Massive power generation wind-farms in Texas have gone offline. Turbines and wind mills have frozen.
During the event, ERCOT (which represents 90% of Texas electric load) confirms: the grid is still short of at least 18.5 GW. That's a staggering number, which equals probably to ~3 million homes, at the very least. This is ~36 hours into the blackouts.
The TX power system is currently facing an unprecedented shortfall of electric generation. @ERCOT_ISO has requested Oncor & utilities across TX to implement controlled power outages to reduce high demand & protect the integrity of the electric grid.

The length of these controlled outages have been significantly extended due to current emergency grid conditions & severe cold weather. These outages are taking place across the service territory & ERCOT has said they could be required through Tues

We are asking all Oncor customers to be prepared to be without power for an extended period of time.

~ statement from ERCOT
Systemwide Failure due to Historic Winter Conditions
Oncor Electric Delivery, Texas's largest transmission and electric distribution utility, serving more than ten million customers, released a rather disturbing statement…
They asked people to prepare for the worse as the power grid experienced a systemwide failure due to historic winter conditions across the state.
The Weather Channel Warns Of "Dangerous" Cold Temperatures
Southwest Power Pool Says 17 States Limiting Energy Usage
3.368 million Texans Without Power
Texas Gov. Greg Abbott Calls Up Texas Army National Guard
Oncor Electric Delivery Continues To Warn About Extended "Controlled Outages"
Texas Gov. Greg Abbott States Power Grid Not Compromised
Power Crisis Hits Texas And 13 Other States
Southwest Power Pool Declares Energy Emergency Alert Level 3
Houston Mayor Sylvester Turner Warns Of More Blackouts
Houston Mayor Sylvester Suspends Air Travel In Houston
ERCOT Wholesale Electricity Prices Plunged From Cap Of $9k per megawatt-hour to around $2.5k
Oncor Electric Delivery Extends Rolling Blackouts
2.7 Million Texans Without Power
ERCOT Wholesale Electricity Prices Exceed $9k per megawatt-hour
Okay, you got the picture… Massive electric grid failures during the worst time of year (winter). There is a long list of follow-on effects of grid-down. I've written about it extensively here on the blog. It doesn't take a genius to understand some of the worst or most dangerous aspects of this.
Regarding this event, I've read several reports which indicate —
Some areas are without running water as utility generators freeze and/or run out of fuel.
Some water treatment plants have gone offline.
Reports of some cell phone networks going offline. Cell phone service is starting to break down over the region as back up generators at towers are freezing or running out of fuel or both.
Other reports from some areas say "All city water customers must boil their water prior to consumption."
HEAT!
No electricity, no heat! Millions of homes were without power while temperatures hovered in the single digits. It doesn't take long for the bones of a home to get colder and colder without a functioning heating system. Do you have a portable heater safe for indoors? Extra fuel?
[ Read: Portable Heater Safer for Indoors ]
WATER!
No electricity, no water for some – depending on your utility source. How are you going to boil water for drinking (assuming there's a boil-water order) without electricity? Do you have a high quality drinking water filter? What about flushing toilets when there's no more water? Again, I've covered this "water" topic so many times… it is taken for granted. When it's gone – you're in BIG trouble…
[ Visit: The Berkey Guy – Best Countertop Water Filters ]
FOOD
Most people do not keep enough extra food in their home. While the grid is down, so is your ability to go out and buy more (stores closed). You're stuck with what you have, or don't have. How many people can cook indoors without electricity? Do you have foods that don't require cooking?
[ Read: Portable Butane Stove For Indoor Use ]
There are so many problems that will affect your life without electricity in our modern world. However the primary preparedness aspects for this type of event are HEAT, WATER, FOOD. Pretty basic, but surprisingly (or not) most are not prepared.
If any of our readers were affected by this particular event, tell us about it in the comments below…