Ruger Officer-Style SR1911, by Pat Cascio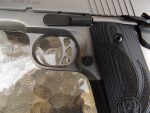 Anyone who has followed my articles for the past 28 years, will surely know that I have a love affair with 1911-style handguns – all of them, in all sizes and calibers. I still prefer a 1911 in .45 ACP over any other calibers, but I've owned them in 9mm, .38 Super, .40 S&W, 10mm, and a few others. The latest FBI findings state that the 9mm, .40 S&W and .45 ACP calibers are all about the same when it comes to stopping power – I just don't buy into that. I'm not going to believe that a 9mm – stops a bad guy just as fast as a .40 S&W or a .45 ACP does – just my take on it, and it's just my opinion.
For a lot of years, I stated that if I were limited to one handgun for the rest of my life, it would be some kind of 4-inch barrel .357 Magnum revolvers of some sort – and it was, and still is a decent choice. However, some years later, I said that a 1911 in .45 ACP would be my choice if limited to only one handgun – and it was, and still is a great choice. It took a lot of convincing, to sway me from a 1911, and my choice these days, would be a Glock 19x and I will have an article forthcoming on my reasoning for this. Still, I love the grand old 1911…
For many years, the full-sized Government Model 1911 was the only type to be had. Then the Commander-sized 1911 came along – and even though it was only ¾ of an inch shorter in slide and barrel length, it was easier to pack. Then came along the Officer's style of 1911, and it comes in different slide/barrel lengths, depending on who is making them, but they all have the same shorter frame that usually holds one less round of ammo in the magazine. Then there were the specialty makers, like Detonics and they were in a class all their own. And now, in the 21st Century there are even more makers out there, doing their own thing, when it comes to 1911s.
Today, we're reviewing the Ruger SR1911 Officer-style 1911 handgun, in .45 ACP. Some time back, I did a review on this same handgun in 9mm and really loved it. It had a lightweight frame, too – easy to pack all day long. The sample SR1911 Officer-style I received for testing is an all stainless steel model, with the frame and slide manufactured out of a nice brushed – subdued – stainless steel, for a stealth-type look. I like it, a lot! I wanted an all-steel version, because I wouldn't be packing this gun much – or at least that was my plan – just shoot it a lot, and the all-steel model, versus the light-weight Aluminum alloy frame reduces the felt recoil associated, with +P .45 ACP ammo.
The Specifications
Here are some of the specs on the SR1911 Officer-style 1911 .45 ACP: First off, it comes with two outstanding, stainless steel, 7-round magazines. These are very well-made, and stamped with the Ruger logo on them. Nice to get two mags with handguns these days. The barrel is 3.60-inches long, and it is a bull barrel – heavier than regular barrels – and this usually means it is more accurate. There is no barrel bushing per se, but there is a full-length guide rod, and unlike some similar models, this Ruger is easy to take-down for cleaning and inspection. The front of the slide is "sculpted" and a little thinner than the rest of the slide. Nice, deep grasping grooves on the sides (rear) of the slide for a sure grip when chambering a round. We have Novak genuine combat sights on the slide – with three-dot sights – very fast to pick-up and there is plenty of room in the rear sight, so you can see your "target" as opposed to a very tight sight picture that is used for target shooting. I like that, a lot. The ejection port is lowered and flared for sure ejection of empty brass or even loaded rounds.
Moving down the frame, we have dark gray G10 grips, Ruger says they are checked, but they are smooth, other than the area, where the Ruger logo is embossed – and it has some "rough" textured to it, for a sure hold in all weather conditions. We have a single-side (on the left side–for a right-hander) combat extended safety, that clicks on/off with authority – very nice to have. The hammer is a skeletonized oblong combat type, and is no-snag. Ruger says the slide release is extended – not to my eyes, but it works as it should. There is a beaver-tail grip safety that is timed perfectly and it has a memory hump on the bottom of it – with horizontal grooves.
The mainspring housing is checkered, and on the bottom of it, it is slightly rounded – making for better concealment. The front strap is smooth – didn't care for this – but an easy fix, by adding some skateboard friction tape – usually have to replace this once a year on handguns I apply it to – not a big deal, but sure give me a better and more secure grip. The magazine release is checkered and slightly extended – much appreciated for a faster reload. The trigger is a three-hole match-grade number. The trigger pull breaks right at 4.74-pounds – more than good enough for self-defense work. The magazine well is also slightly beveled for a fast mag reload, too.
The sights – front and rear – are adjustable for windage only. However, I've never had any handgun from the Ruger factory that needed to have the sights adjusted. The gun weighs in at 31-ounces – not bad for an all-stainless steel pistol. However many complain it is "heavy" compared to their polymer handguns. The grips are thin-line, making the grip area much thinner, I like them.
Ruger says that with the precision use of CNC-controlled machining operations, that it makes for a superior slide-to-frame fit for smoother side travel – and it does. And this contributes to better accuracy, as well. There is also a Titanium firing pin – and this allows for a faster lock time – contributing to better accuracy as well. What's not to like, thusfar? Another Ruger touch is that the plunger tube is not a separate part staked on the frame. Rather, it is milled integrally with the frame – no worries about it coming off the frame. By the way, I've had this happen on several 1911s over the years. Way to go, Ruger!
About The Magazines
The two 7-round magazines that come with the Officer-style SR1911 are flush-fitting – nice – to a certain extent…and I keep one in the gun that is flush-fitting. However, for a reload – a sure reload, I carry a 7-round .45 ACP mag with an extended magazine base on it. I want to be certain of a solidly-engaged magazine, on a reload. I don't know who makes these, but they are sold by CDNN Sports and they are very reasonably priced – so stock up on plenty. I also used their Government model 8-round magazines. I have never had one fail me. These are made out of stainless steel with a polymer follower. As I said, outstanding magazines, and priced oh-so-right, too.
My Tests
I packed this little powerhouse for two solid weeks, in a Safariland belt slide scabbard – about as minimalist of a holster as you can find, and the gun rode at belt level, and tight to my hip – very concealable carry. During my testing, I did fire this gun from 15-yards out to 25-yards for accuracy, over a rolled-up military surplus jacket that I had in my pick-up truck. For ammo, the great folks at Black Hills Ammunition supplied me with the following for the article: 20—gr Match Semi Wadcutter – all all-lead load, 230-gr FMJ, 230-gr JHP, 230-gr JHP +P – very hot stuff, 185-gr Barnes Tac-XP +P and their outstanding 135-gr HoneyBadger load – all-copper bullet that is fluted and will get the job done. It doesn't have to expand to do the job.
The SR1911 was easy to shoot at 15 yards. So I moved out to 25-yards for some serious accuracy testing. With the 200-grain all-lead Match Semi Wadcutter, I cutting groups right at 3.25-inches, without much trouble, and this was the most accurate load – not too shabby from a 3.60-inch barrel. Next up was the 185-gr Barnes Tac-XP +P load – this is an all-copper hollow point load, and it was hot on the heels of the 200-gr match load – just a fraction of an inch behind it. Everything else was under 4-inches without really trying at all – and I know I could tighten-up those groups with more shooting and getting more familiar with this little gun.
For self-defense, I would stoke this hummer with the 135-gr HoneyBadger loads, and never look back. If I were out hiking and had this little gun with me, I would have it loaded with the 230-gr JHP+P load, in the event of meeting dangerous game, like bears. This is one hot load, and when you touch a round off, you know it has some power behind it.
Thusfar, there isn't anything I didn't like about the Ruger SR1911 Officer-style 1911 pistol. The oonly change I made was adding the skateboard friction tape to the front strap – and I do this to most of my 1911s that aren't checkered. Full-retail on this little gun, is $979 and if you shop around, you can usually find them for a little less money. But even at the full retail it is well worth the money. I'm afraid this one won't be going back to Ruger – it's a keeper. Just don't tell my wife.