Taurus G3 Pistol, by Pat Cascio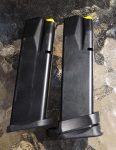 I've been a fan of Taurus firearms for a lot of years. This wasn't always the case, however, Taurus has come a long way in improving their quality. Back in Chicago, when I was the Investigation Manager for a huge detective agency, with offices all over the USA, I also was their armorer, and most of the handguns issued to security officers, were made by Taurus. I had my hands full caring for those guns, and I kept a good supply of parts on-hand, for making repairs. Today, that isn't the case, Taurus manufactures most of their handguns in Brazil, and the quality is top-notch. If I recall correctly, Taurus is the biggest handgun maker in the free world, and as such, some guns will slip through and might need to go back to them for repair. As such, some people say Taurus doesn't produce hi-quality handguns. But that's simply not the case.
I will say though, that for the past few years, for whatever reason, their line of 1911 handguns has had spotty quality control for some reason. Taurus can and should do better with this model. Thankfully, their G2 and G3 product lines have higher quality control.
My wife owns quite a few handguns, and she can carry just about anything she wants on a daily basis. However, she carries a Taurus PT111 G2 – she shoots it well, and it fits her hand nicely. She carried a Glock 19 for a lot of years, with a Crimson Trace laser on it, and also likes this gun. But once she held that Taurus PT111 G2 in her hand, her Glock 19 was retired. She still shoots the Glock every now and then, but prefers her Taurus. If a gun fits and feels good in your hand, and you shoot it well, then what's not to like about it?
I own a Taurus G2 myself, and I can't find much to fault about it, but it isn't my first choice in a carry gun for some reason. I can usually be caught carrying a Glock 26. Why? I like the feel, and the number of rounds it holds, and it shoots very well.
Many years ago, I was the first gun magazine writer, to do on-line only articles. Now everyone is doing articles on-line. However, I was the first writer to do so. The public relations firm that handled Taurus firearms, contacted me about this idea, and the articles would be about Taurus firearms for their web site only. We came to an agreement on this, and it was decided that, no matter what I wrote about a Taurus firearm I was testing, the PR firm would run my articles as-is, with no changes other than to grammar in my articles…and they weren't allowed to turn down any articles I submitted no matter what I said about the test gun. I was paid a decent amount per article, as well as being allowed to keep the firearms I wrote about. That seemed like a fair deal all the way around. And no one – EVER – asked me to write anything "good" about the guns I was testing! I used to believe that gun writers were paid by the gun companies to say only good things about the guns they were testing. If this is the case, then I missed that train – no gun company ever offered me anything in exchange to say good things about their guns! I did have an editor, at one time for a big-name gun magazine ask me to change some things – negative things – that I had written about a gun, and I refused. They pulled the article – paid me, but pulled it – they were afraid they would lose advertising money from the gun maker.
We Don't Get To Keep Them
Believe it or not, most gun makers now don't give you the gun sample that they sent you to write about, either. Sure, they give us writers a discount off of retail, but most don't give guns away. I've received a few guns after writing about them, however, this was not any big-name gun companies. As a matter of fact, it was some very small gun makers, that said I could keep the gun sample because they had no use for a used gun, I was told. But that is the rare case. Generally, if we want to keep a gun sample, we have to pay for it!
We're looking at the fairly new Taurus G3, and I did not receive this sample from Taurus. I purchased it from a FFL dealer, with my own funds. My local FFL dealer, can't keep the G3 in-stock, and every time I tried to get one, I just missed out and learned that it had been sold. My wife and I were at our local small box store not long ago, and I spied a Taurus G3 in their almost empty display case – there is still a run on handguns as I write this – during the Coronavirus pandemic, and handguns are hard to come by. I looked at the price tag on this gun, and it was only $239.97 – this gun retails for $325 – that alone caught my attention. A short time later, we walked out with this G3. This model has a gray-colored polymer frame, and it came with one 15-round magazine, and one 17-round magazine – outstanding!
Basically, we are looking at a full-sized variant of the Taurus G2 – which is a compact 9mm pistol. The G3 has a 4-inch barrel, and a full-length frame, to hold those mags – the 15-round mag fits flush with the bottom of the frame, while the 17-round mag sticks down below the bottom of the magazine well just a little bit – not much, though. The slide is a dark black/gray and it appears to be Parkerized – tough stuff. The slide has fixed three-dot combat sights. The front sight has one white dot, while the rear sight has two white dots, plus they are low-profile, too – they aren't going to snag on anything during a draw.
The G3 (and G2) are striker-fired handguns, and they are listed as single-action – and they are. However, you also have a restrike ability if a round doesn't fire – just pull the trigger again, and the round should fire. Trigger pull is a bit long once you have a round chambered, there is a long take-up – slack, if you will – before you engage any resistance and the gun fires. On my sample, it had an even 6-pound trigger pull – not bad at all, though.
On the G3 we have a trigger safety, and that is a lever in the middle of the trigger. You must provide a proper finger placement when you are ready to fire, if you don't, then the gun won't fire unless that little lever is depressed all the way into the trigger face. There are also several internal safeties as well as a manual safety on the left side of the frame. The gun only weighs-in at 24.83-ounces. However, with its ergonomics, it feels much, much lighter than that. I've taken a lot of striker-fired handguns out of the box, that had no lube and fired them – not my usual practice, but as part of my testing process. The G3 was bone dry, not a hint of lube any place…in the first two magazines I had numerous malfunctions. I lubed the gun and it ran 100% of the time. As always, you should keep your firearms well-lubed if you want them to run well.
Taurus has what they call "memory pads" on the frame of the G3, and they are rough-textured, for a sure grip on the gun under any weather conditions. And in fact some of my testing was done in a good rain coming down, and the gun remained firmly in my hand. During this intermittently rainy testing, I had a great selection of 9mm ammo on-hand for my testing, I had their 115-gr FMJ, 115-gr JHP +P, 124-gr JHP +P, 124-gr JHP, 115-gr EXP HP, 15-gr Barnes all copper, solid Tac-XP +P and their 100-gr HoneyBadger +P – and in all my testing, I fired 400 rounds, and the only malfunctions were as mentioned above, when the gun was without any lube. Again, after it was lubed, there were zero problems, the gun ate everything I fed it. I was shooting alone, no volunteer helpers because of this virus thing. So l limited my testing – takes a lot of work to keep loading magazine after magazine.
The G3 loved the Black Hills 124-gr JHP – not the +P version. However, the G3 says you can shoot +P through this gun if you want to. I was shooting for accuracy at 25-yards, over the hood of my pick-up truck – no rest was used. The 124-gr JHP gave me 3-inch groups – could do better using a rest, I'm sure. All the other types of Black Hills ammo gave me groups under 4-inches, and that's good enough for combat purposes. During better weather, I'm sure I could shrink-up those groups quite a bit. However, the 124-gr JHP is one of my favorite loads from Black Hills for self-defense. So that would be a good one to test if you pick-up a G3.
Be sure to check out a G3 at your local gun shop, I think you'll be impressed with it – it's a lot of gun for very little money. I don't know if you can find one as inexpensively as I did. But even at full-retail, it's a lot of gun…I'd carry it into battle.