A Review of The Prepper's Medical Handbook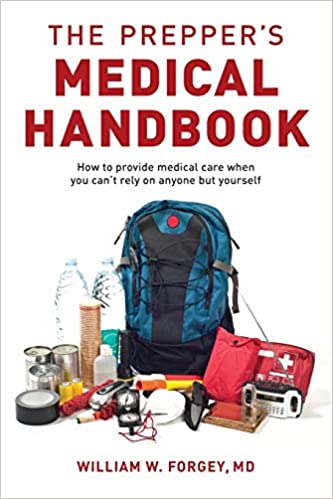 We are a reader supported blog and this page may contain affiliate links. When you buy something through our links we may earn a small commission.
[DEAL] Ultrabright Tactical FlashlightGet This Deal →
It is always great to get a book to review. The area of prepper medicine doesn't actually have a ton of dedicated books written by actual doctors. While I am not saying that you have to have a major medical degree to know a lot about medicine, when it comes to a mass-produced book, it is a good feeling to know that it is actually written by someone with major medical training.
A Review of The Prepper's Medical Handbook
By William W. Forgey, MD
Veteran outdoor author William Forgey, M.D. is engaged in the full-time practice of family medicine and is a member of the board of trustees of the International Association for Medical Assistance to Travelers, a fellow of the Explorers Club, and a past president of the Wilderness Medical Society. A former Boy Scout scoutmaster and Medical Explorer Post and High Adventure Post advisor, he currently serves on the National Health and Safety Committee and as an advisory board member for the Northern Tier High Adventure Base for the Boy Scouts of America. He is the author of many wilderness medicine and camping books, including Basic Illustrated Wilderness First Aid (Falcon). He lives in Crown Point, Indiana.

Length= Around 300 concise pages
Some medical books are too long and put forth information that the average person is not really going to get a lot out of. This book is long enough to cover a lot of ground and doesn't skimp on telling you what you need to do to take on a lot of different medical emergencies.
Easy to understand.
Dr. Forgey's book is an easy read and that is something that is hard for me to say about any medical book. I could actually sit down and just read this.
A medical book that you cannot understand without rereading parts several times is not a good choice for preppers. Let's face it, most of us don't have any medical training beyond a basic workplace or Red Cross class and a lot of people have never actually been in a situation where they really needed to provide a moderate level of care rather than going to a professional. During a long emergency or even a natural disaster, help may be either too far away or emergency workers may have to prioritize and offer assistance to those that need it more than you.
A Good Index
One reason I sometimes buy ebooks even if I have a paper copy of a reference book is simply that they are easy to search and find exactly what you need. Dr. Forgey made sure his book has an index that helps you find info fast. No digging around and wasted time.
You can view a sample of the book on Amazon so you can see the table of contents and other info.
Solutions for the rest of us.
A medical book can be right on target but I always ask myself before buying any reference book "Does it have solutions that I can actually use?" The answer, in this case, is that "The Prepper's Medical Handbook" has a ton of solutions that are all within the skill level and resources of the average American today.
I like how Dr. Forgey includes recipes for electrolyte solutions at home. Dehydration and loss of electrolytes can be life-threatening and it is something that is associated with a lot of diseases and illnesses including COVID-19.
Topics Covered
As stated before this book covers a lot of ground. It also offers treatment advice for some medical situations that a book written for the mainstream would likely skip. Here is a list of the chapters covered.
How To Prepare For Medical Care Off-Grid
Assessment and Stabilization'
Body System Symptoms and Management
Radiation
Dental Care
Soft Tissue Care and Trauma Management
Orthopedics-Bone and Joint Pain and Injury
Bites and Stings
Bioterrorism and Infectious Disease
The Off-Grid Medical Kit
Prepper's Medical Resource Bookshelf Suggestions
Helpful Charts and Drawings
A lot of books do not include many charts or illustrations. I like that Dr. Forgey took the time to put some of the medical advice in his book into not just words but tables that pull it all together and make it more accessible for the rest of us. There are also illustrations and photos that help you to understand concepts. I think this is very important since so many people benefit from actually seeing something rather than just reading about it.
Conclusion:
I don't do a lot of book reviews but I am glad that I had the opportunity to do this one. While I always will keep my Alton's Medical Guides close at hand, it is nice to have another volume too. I recommend Dr. Forgey's book for your prepper bookshelf. It is available in paperback and e-book format. You may want to get both editions for quick reference no matter where you are.
While he could have charged a lot more for this book and the wealth of knowledge he has offered up, it is priced much lower than competing books out there. The electronic book costs less than the paper too. That may sound strange to point out but it kind of irks me when the e-book version costs the same or more than the hard copy.
The Prepper's Medical Handbook would make a great gift for any family or friends that you have that are just getting started on a preparedness path.
Full Disclosure: While Dr. Forgey did contact me and ask if I would be interested in taking a look at his book, he did say that he didn't expect anything in return. He sent his book for an honest opinion with no strings attached.