Taurus 1911, by Pat Cascio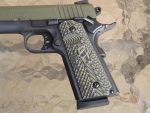 Let me begin by assuring you: This review article is not a repeat. Today I'm reviewing a Taurus 1911 that is a different 1911 than the one that I gave a sternly negative review, in April, 2019, also here in SurvivalBlog. Taurus USA apparently has taken a new approach to their line of 1911s. The first thing I noticed is that, this is not labeled as a Taurus PT1911, instead, the slide is simply stamped "1911". Technically, this is a 1911A1 version, some slight changes over the original 1911, that was produced in well….1911. Around 1927 there were modifications done to the frame and a few other improvements and it was called the 1911A1, however most folks still simply call this design a "1911." I won't go into the history of the 1911/1911A1 because so much has already been written about this grand handgun, that you can research it for yourself.
Early in 2019, I made a purchase at my local FFL dealer of a Taurus PT1911 – they had several to choose from, however, the two I was interested in, both had a horrible trigger pull, and the grip safety, took two men and a boy to depress. I had no way of measuring the weight of the grip safety, but it was probably around 10-12 pounds…the trigger – my trigger pull gauge didn't go that high, but it was safe to say, the pull was easily 12 pounds or more and very gritty. I love working on 1911s – and had planned on working on this sample, but after thinking about it, after my testing, I simply traded the gun off (with of course full disclosure of the faults), so they could be someone else's problems, or they could send the pistol back to Taurus. A trigger job on a 1911 isn't that difficult to accomplish, if you know what you're doing, but I just wasn't going to play around with this gun.
BTW, I called Taurus after I purchased this current sample, and asked them why this gun was stamped as a "1911" whereas the previous guns were all stamped on the slide as a "PT1911" and the person I spoke to, didn't know why the different model designation – guess Taurus should educate their Customer Service personnel on these things. I believe that, when Taurus was calling this gun the PT1911 – it was just so everyone knew it was a Taurus.
I've had a love affair with the 1911 for all of my life, and have carried one during my career in private and public law enforcement, as well as for self-defense, and a stint with the BSAP in Rhodesia (now Zimbabwe), hunting down Terrs there. I have all the confidence in the world, in a well-made 1911 and the .45 ACP round to take down the bad guys. It was my first choice, as an End Of The World handgun, or my one and only handgun – if it ever came down to that. However, these days, my End Of The World handgun is now the Glock 19X – and it was a hard choice to make – so many readers have hounded me for years, as to what my favorite handgun is, I finally nailed it down to the Glock 19X. Now, with that said, if I were going into a hostage situation someplace, I would probably grab a 1911 over the Glock 19X – because I can shoot the 1911 faster and more accurately than any other handgun. However, for that End Of The World situation, or as my one and only handgun, the Glock 19X would be in my hand.
The Specifications
Let's take a close look at this "new" Taurus 1911. It has some great features. To start with, it is a full-sized Government Model, and that means a 5-inch barrel and corresponding length slide. This model is called their Mil-Spec OD green model, because the slide is OD green – it is Cerakote coated, for a long-lasting finish. The frame is black Cerakote coated – this giving it a very attractive two-tone look. The rear of the slide has angled serrations on either side of it, with the same being carried forward on either side of the slide. The ejection port is lowered and flared, for sure ejection of both fired and loaded rounds. The front and rear sights are Novak drift adjustable, with white dots on the rear and one white dot on the front. There is a one piece guide rod instead of the short mil-spec guide rod. I prefer the latter – but I can live with this longer guide rod.
As already mentioned, the frame is black Cerakote coated and perfectly executed. There is a long three hole match trigger, and it breaks right at 5 pounds. The trigger pull was little bit gritty to start with, but it smoothed out nicely – it's a good trigger pull on a self-defense street gun. There is a beaver tail grip safety and it is set perfectly as well, about ¾ of the way when depressed it releases the grip safety. The main spring housing is plastic. Many 1911 makers have gone this route…and it is checkered for a sure grip. The front of the front strap is nicely checkered right in the very center, and on either side of this checkering it is serrated horizontally. Quite honestly, there isn't any need to fully checker the front strap, so long as the center of it is checkered. Nice job, Taurus. The magazine well is opened up a bit for a faster reload, too. The ambidextrous thumb safety snicks on/off with authority – again, a very nice job on these by Taurus. I've had some thumb safeties that were extremely mushy, and that's putting it politely. A ringed speed hammer finishes out the frame, along with a slightly extended mag release button – not overly long – just the right length.
Great Fitting
The barrel-to-slide-to frame lockup is outstanding – fitted near-match-grade if you ask me – just a tiny bit of play between these parts…again a lot of work went into fitting these parts. I was more than a little impressed with this feature. Plus, the barrel's feed ramp is polished and opened up too, for sure feeding of all types of ammo. When you hold the gun and shake it, there is no noise – everything is rock solid.
The gun is a single-action only, in case you didn't realize that about a 1911. It came with one 8-round magazine, made by Mec-Gar. In the past, the Taurus PT1911 came with two 8-rd mags and I'm not sure which company made them, they were marked "Taurus", and they were more than a little thin and flimsy if you ask me. Nice to see Taurus stepping up to better magazines. However, in the past, Taurus also included a second mag – not so this time. I asked my FFL dealer about this, and they said it is hit or miss with the current crop of 1911s – some come with a spare mag, some don't. My sample came with a spare set of Taurus black plastic grips, in the event I didn't want to ruin the outstanding VZ Operator grips they put on this gun…they are "checkered" on the front third of the G-10 grips, in a golf ball dimpled design and the rest is angled serrations, with the Taurus "Bull" head engraved in the center. This is just an outstanding upgrade by Taurus to put the VZ Operator grips on the gun. And they are also OD green in color.
Taurus uses forged carbon steel for the slide, frame and barrel. And, when forged steel is used, it adds a little more weight to the gun, in this case, it weighs-in at 42-ounces, a bit more other full size Government Models weigh-in — around 40 ounces. But I welcome the little bit extra weight when it comes to having those parts forged and not cast. Once again, Taurus did it up right.
My Field Tests
Now, the hard part, and I was really, really hoping that this Taurus 1911 would perform a lot better than the last sample did. You just can't get great accuracy out a trigger that is 12+ pounds. But this sample with a 5-pound trigger pull showed a lot a promise when I dry-fired it. And, as mentioned, the grip safety was easy to depress.
I had a great selection of ammo from Black Hills Ammunition to run through this handgun. I had their 230 grain FMJ, 230-gr JHP +P, 185 grain Barnes Tac XP +P, and their outstanding 135 grainHoneyBadger load – one of my favorite loads for self-defense. My FFL dealer also gave me a mixed box of "range" ammo to run through this gun – a various lot of different weight and bullet styles. I fired more than 400-rounds through this Taurus, with zero problems – none, nothing, nada! That was a pleasant surprise. The sights were well regulated and was hitting where I was aiming. Lots of targets of opportunity, like rocks and fallen trees. I settled down to do some accuracy testing, and the target was out at 25-yards. I used a padded rifle rest, over a huge boulder to fire this 1911. A good rest gives you a good indication of a gun's accuracy. I didn't have any volunteer shooters to help me with this test, it was just me, and all shooting was one on one afternoon – needless to say, my thumb was sore from loading all those magazines.
First up was the Black Hills 135 grain HoneyBadger load, and I fired two rounds, and I had to stop and look at the target – from my shooting position. I saw one hole, but I fired two rounds. For sure, I thought I completely missed the target. Without going down range, I fired three more shots into the target, and I then walked down range, and I discovered that the first two rounds – went into the same hole! Are you kidding me? I don't shoot that well, not even on my best days. All total, I had a group of 2.5 inches – I was impressed. A good gun writer knows when to put the gun down – and I did – and waited a bit before doing any more accuracy testing.
The 230 grain FMJ round came in at 3.75-inches, again outstanding. The 185 grain Barnes Tac XP +P load was at 4-inches and the 230-gr JHP +P just about tied that Barnes load. I was hoping for a little better accuracy from the Barnes load, but I'm not complaining in the least. The 230 grain JHP +P load – it's a stout load, no doubt about it – it gets your attention, and it would be loaded in this Taurus if I were out hiking in the mountains or boonies. It would give dangerous four-legged critters pause to wish they were someplace else.
I was more than a little pleased and surprised with this latest version of a 1911 from Taurus, it surprised me with how smoothly it worked and the accuracy, and I believe with more practice and if I weren't so tired after doing a lot of shooting, that the 185 grain Barnes load and the 230 grain load could do a bit better in the accuracy department.
After my shooting tests, I packed this Taurus 1911 for a week and a half, in a Blackhawk Products Serpa hip holster. I used the belt loops on this holster, instead of the paddle – you get both with this model. I just don't like paddle holsters, as they tend to rid too low, but the belt loops on this holster kept the Taurus riding high and tight to my side.
I certainly hope that the rest of the "new" 1911s manufactured by Taurus are this well-assembled. Now, the best news is that, full-retail on this and similar models is only $714 – however my local FFL had this model and another one for $539 and that's a steal of a deal if you ask me. Check one out at your local FFL. I think that you'll want one!