Slow the Spread: DIY Cloth Face Masks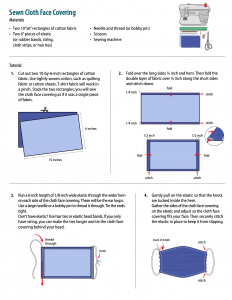 As the coronavirus makes its way across our country, there are steps we should take to help slow the spread and flatten the curve. While we should all be actively practicing social distancing, which means keeping at least 6 feet of distance between yourself and another individual, this isn't always possible.
Because of this, the CDC recommends wearing a cloth face cover when out in public. It can be difficult to safely distance yourself from others at the grocery store or the pharmacy, so this added layer of protection is essential to have while running errands.
Luckily, making a cloth face cover does not have to be challenging. In fact, it can be a fun activity and an opportunity to be creative. The CDC shared three different tutorials, two of which that do not require sewing, that can easily be done from home with supplies you already have.
Below are three different ways you can make a cloth mask from the CDC:
Try it at home and show us what you've created. Bonus points if your fabric has frogs on it! Thanks for doing your part in flattening the curve.