What I Did To Prep This Week: Feb 23rd – 29th 2020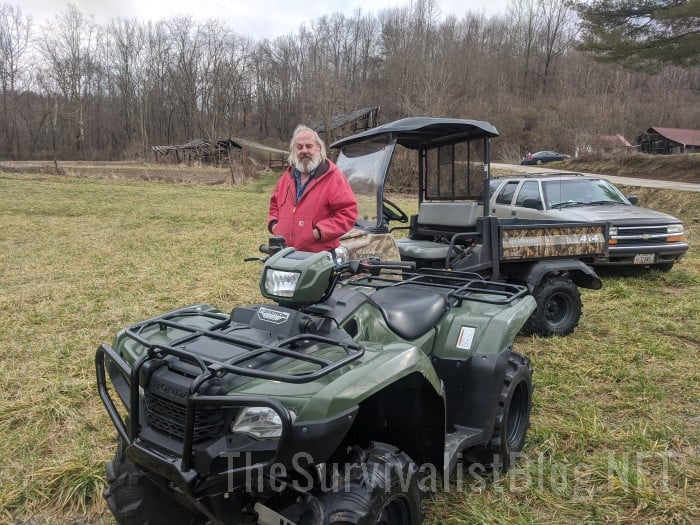 Hello Pack. It has been an exciting week of prepping purchases here on our survival homestead. Our 4-wheeler bit the dust a year ago and our Polaris Ranger isn't ready to become a parts donor yet, but sure does not run like it used to.
I knew Bobby was going to get a new or newish side-by-side and put a motor from two parts donor golf carts in his junque pile into the Ranger, but I had no idea he was also going to surprise me with a new 4-wheeler, as well.
I drove him down to the bottom of our property to pick up the delivery, and saw a wheeler on the rollback but didn't pay a lot of attention. I just figured that was a delivery for his next stop.
Talk about an awesome surprise – and yes, I sure do consider the wheeler a prep. A fun prep, but a prep all the same.
It has a lot more power than our old one, and I have to admit I was a bit intimidated at first, but then had a blast riding it up our half mile dirt (think mud bog, at the moment) private farm road.
Neither the Kubota side by side or the Honda wheeler are brand new, but they look and function perfectly with new tires. Highest sticker price preps we have purchased since the last time Bobby bought those cool old tractors.
The Kubota is a diesel, which was what Bobby wanted. Learning how to make biodiesel fuel has been on my to do list for a while.
A tribe member knows how, and I hope to hit him up for a training session as soon as this nasty weather breaks.
My Bobby also got our tickets for Prepper Camp and surprised me with them – I simply cannot hardly wait to go back again. Recreating that magic from the first year it began in 2014 doesn't seem like it is possible, but each year it happens again.
Even though I consider myself good with words, it is still hard to describe how incredible the feeling is to be fully immersed 24/7 for three days with just your "own kind." Everyone you see or hear is a prepper, off grid liver, or survival homesteader.
The instant comradery is felt by everyone there, you share, you learn, and you laugh for 36 straight hours – no one ever wants to leave, seriously.VBRWek740
During the inaugural year of Prepper Camp, I had just published my first book and was a presenter. The affection shared between each presenter and audience member was beyond heartwarming and inspiring.
I ordered a few cases of my books through the publisher at the writer discounted rate to take with me and sell.
Didn't want to spend too much money buying a lot of cases because I had no idea if a single person would actually want to buy the thing. I sold out in my first class.
Being a clever girl, I created bookmarks on cardstock paper with a special 3-day coupon code to hand out and ended up selling far more books that way.
My book sales ended up more than paying for our entire trip down to Saluda, North Carolina and back.
Truth be told, I would have paid triple the cost of going and staying there just to be a part of the hands-on survival homesteading training and to hear the patriot speakers. The sense of community created in such a short amount of time is truly a wonderous thing.
I have been to lots of prepper expos, and Prepper Camp is nothing like that at all. Those are merely survival shopping malls with some hopefully interesting and knowledgeable speakers scattered about amid the vendor booths.
At Camp, you see, hear, and actually DO during the training presentations. Yes, you can shop and the vendors there are specifically selected to participate, and do not merely pay a fee and inundate the outdoor table browsing area with a myriad of questionable quality gear.
Folks from all around the country and from all walks of life converge on the Orchard Lake Campground every September for the survivalist event.
If you want to take your prepping up another notch, make some awesome self-reliance connections, and take a long weekend getaway with a beloved prepper in your life, I simply cannot recommend working Prepper Camp tickets into your survival plan budget.
In other preps this week I scored 10 packets of organic pumpkin seeds for $.15 each on that Bid Fast Track Auction website I keep mentioning.
I am also winning another grow light on there for less than $5, and bidding on a handful of other prepping items that if they do not go much higher will be purchased for no more than 75% off the retail price.
This Week's Questions:
If you could buy one high sticker price item prep this year, what would it be and why?
If you could attend one class at a prepper event, what would you like the presenter to teach you and why?
How are your spring garden – growing preps coming along?
What did you do to prep this week?