Boker Plus Wildcat Karambit Review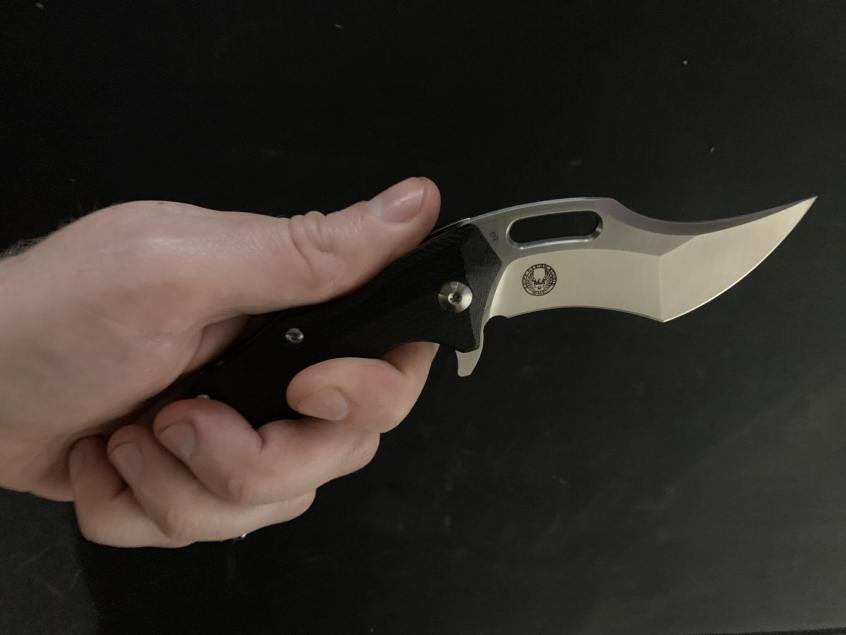 Boker Plus Wildcat Karambit Review
I will confess that, when I purchased this particular knife, I was certainly not considering the practical applications for this blade. I had not owned a karambit and I needed a folding knife for camping and when I saw the unique styling, coupled with the Boker Plus brand name, I was immediately sold and spent a significant amount of money on a blade that has essentially become a £60 letter/box opener. Now, I will say that I do not regret the decision to buy this blade at all however, if I'm honest, I dont think I could recommend it to anybody either. That's not to say that it isn't a fantastic blade, with very good materials and build quality. Also, it's also not to say that if you want a unique, aggressive folding karambit then it shouldn't be on your list. As I said, I do not regret my decision to purchase this knife in any capacity but, I think it is more of a collectors piece than a practical blade although, it is still a perfectly functional piece. Anyway, lets talk about the specifics of the blade and why you should buy it, even if you shouldn't.
It comes in a nice little padded magnetic close box. Looks very unassuming on my desk next to my computer but at the same time it seems quite at home on an office desk. Doesn't look like a knife box, more like a small jewellery box or pen box so, it's not out of place in your home office. Not much else to say. Decent box but, if it was any other design, would probably look weird next to a stapler.
The handle is G10 with stainless steel liners, pommel ring and belt clip. The belt clip can be left or right handed if you wish to carry it in your pocket. It uses a sturdy liner lock which is easy to close with one hand (also easy to open one handed) which is what you want in this type of blade. It's a reasonably comfortable handle. You wont ever be using it to sculpt an elephant carving but, for sitting around swinging it by the finger ring and pretending you are the next Doug Marcaida, it's very nice and equally comfortable in reverse grip. Overall it's a very good design and it doesn't feel like they have overlooked anything. Nice jimping for the thumb on the finger ring and contoured in the right places.
The blade is D2 high carbon steel and is incredibly sharp out of the box. It has this bat wing like recurve shape with a flawlessly symmetrical flat grind (the shape is what sold it to me as I'm sure is what is attractive to you also.It has a finger flipper to deploy the blade. It works well in a standard grip but most karambits will be held with a reverse grip and, while it's definitely not as easy, it is still doable with the right technique. It looks like quite a thin blade despite it's 3.5mm spine, certainly the grind takes it to a very fine cutting edge which is what makes it perfect for opening boxes and letters or cutting tags off clothing, which is basically all i use it for. I can confirm if you were going to use it for self defence it easily cuts your delicate flesh as my fingers will attest to (nothing major but a small lapse in concentration while spinning it easily shows its not to be taken lightly.
Overall I am very happy with the purchase, as it's something I have always wanted and it is top quality from a trusted brand. It's a nice lightweight agile little folder with tonnes of visual appeal without compromising on quality or craftsmanship. For practical purposes (outside of self defence) it is completely pointless. So, if you live in the US then you could justify buying one for self defence and you could definitely do worse. The quality and feel is there and the blade is big enough to put off would be attackers . For the UK however, it's just a very nice, high quality show knife. So would I recommend? As I mentioned in paragraph one. No. But, yes. If you want a defensive knife there are better choices. If you want a defensive folding karambit then it's perfect and I have never once picked it up and been disappointed.
If you look at a picture of it and think, yes, I want it. Then you wont regret it.
Boker Plus Wildcat Karambit Review
Functionality
If your looking for a great folding karambit then you wont be disappointed.