Olight Flash Sale April 2021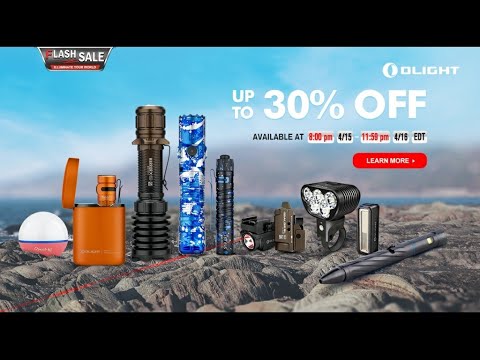 A.Below are our flash sale details:
Flash sale date: 8:00 PM April 15th – 11:59 PM April 16th EDT,   
VIP customers(Silver and above) will have early access to our Flash Sale from 8:00 PM April 12th.
A FREE i3E keychain light will be automatically added to the cart for every newly registered customer. 
Build your Bundle: Buying any two or more of new released products will get 30% OFF
Olight Purchasing Link: https://olight.idevaffiliate.com/idevaffiliate.php?id=173
10% OFF Coupon code: SOS
Coupon Code will work during sales on non-sale listings ONLY.
B. Main promoting products are as below:
1. Baldr RL mini Black, 20% OFF, $87.96 (MSRP: $109.95)
Baldr RL mini Desert Tan (Limited Edition), 20% OFF, $95.96 (MSRP: $119.95)
2. M2R Pro Ocean Camouflage (Limited Edition), 20%OFF, $95.96 (MSRP: $119.95)
3. i5T EOS Stardust, $32.95 (MSRP: $32.95)
4. Couple set : each set gets 30% OFF
1) Baldr RL mini Desert Tan + i5T EOS Stardust, $107.03
2) Baldr RL mini Black + Obulb Pink, $94.43 / Baton 3 Premium Edition Orange, $153.93 
3) M2R Pro Ocean Camouflage + Baton 3 Premium Edition Orange, $160.93 / Obulb Pink, $101.43 / i5T EOS Stardust, $107.03
5.Free Tiers:
1) Over $129 get a FREE i1R 2 Black (MAP: $17.95) 
2) Over $229 get a FREE Open 2 BL (MAP: $59.95) 
3) Over $329 get a FREE Perun 2 BK (MAP: $89.95)
C. Below are our new lights main features:
Baldr RL mini
 
1. 600 lumens with 130 meters beam throw
2. Compact size with Red laser and White light combo
3. Compatible with most pistols that have a Picatinny Rail
4. Quick attach lever allows for installation and detachment in a second
5. Magnetic charging, no need to detach the light from your weapon
6. Upgraded two screws make it more stable
7. Desert Tan limited edition for your choice
 
 
M2R Pro
 
1. Aggressive bezel making it a perfect tool for self defence.
2. Convenient and easy to operate with dual switch.
3. Using a powerful 5000mAh 21700 rechargeable battery.
4. Amazing 1800 lumens output and 300-meter beam distance.
5. Magnetic charging.
6. Limited Edition with Ocean Camouflage
Step One Survival is a place to meet, network & find other preppers; to start your own prepper group or join an established prepper group. general discussion. and for those who want to protect themselves from man-made and natural disasters, financial collapse, EMP
Support comes from Patreon and viewer's like you. 
https://www.patreon.com/StepOneSurvival
Visit our SOS Amazon Store for all the items on featured on the Channel. https://www.amazon.com/shop/steponesurvival
SOS Shirts Mugs and Stickers https://teespring.com/stores/steponesurvival
olight store
https://olight.idevaffiliate.com/idevaffiliate.php?id=173
(Use code SOS for regular priced items)