10 Items Every Man Should Keep In His Car!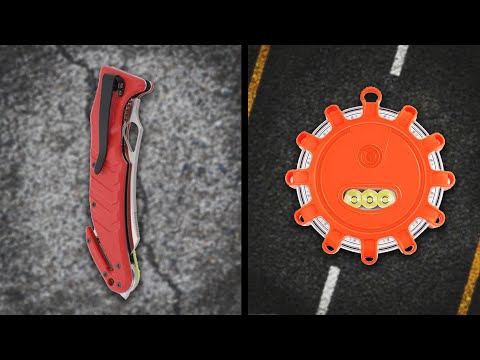 There are some items that every man should keep in his car for emergencies! These items will help you and your family survive emergency situations while on the road or help others who have been involved in a car accident. Use these items as the base for building your vehicle emergency kit.
Here are my recommendations for the gear I mentioned in this video. Several of these are amazon affiliate links.
-Knife
FKMD ALSR 2 AIR LAND & SEA RESCUE Black https://amzn.to/2Otx2eS
Manufacturers website https://www.foxcutlery.com/n/en/product/439/fx-447_c.html
-Glass Breakers
Key Chain Glass Breaker/Seat Belt Cutter https://amzn.to/3t0PUAM
Swiss Safe 5-in-1 Car Safety Hammer https://amzn.to/2OfZuku
-Flashlights
LED Work Light with Safety Hammer https://amzn.to/30pP2JH
USB Chargeable LED Flashlight https://amzn.to/3kTZ7rK
-First Aid Kit
Car First Aid Kit https://amzn.to/3ewJqG7
-Handwarmers
Box of handwarmers https://amzn.to/30mSxk7
-Emergency Blankets
https://amzn.to/3catoPk
Wool blanket https://amzn.to/38jFHYv
-Mask
Fire Mask & Gloves https://firemask.com/
-Multi-tool
Geber Multi-tool https://amzn.to/3briNjS
-Road Flares
-Wagan Flashing Roadside Emergency Disc https://amzn.to/30khpcq
-Road Flare Kit https://amzn.to/3cfPyQb
🔥Support The Channel🔥
Survival Know How Merchandise https://teespring.com/stores/survival-know-how
Support the channel with these affiliate links.
🔥Shop At On My Store https://amzn.to/2sMkTHC
🌲Hammock Camping Gear https://amzn.to/39QZQ79
🔪Prepping Supplies https://amzn.to/2tFkIxy
⛺️Camping Gear https://amzn.to/37LHkvm
🔥Watch More🔥
✙ Survival Kit Playlist https://www.youtube.com/watch?v=8Iu1Mld2e3Q&list=PL3dzZ3vOjuA8ItTXdZaUmBeuxtr-XF9NK
✙ Best EDC Gear https://www.youtube.com/watch?v=FiaaI5-m7WQ&list=PL3dzZ3vOjuA_RRNEkR3oqXL-Vg6gaxWnH
✙ Prepping For Emergencies https://www.youtube.com/watch?v=E459XIluUFE&list=PL3dzZ3vOjuA_LanlUsNnZWq49DXpddzzr
✙ Hammock Camping Guide https://www.youtube.com/watch?v=-bHSJ4rG0oM&list=PL3dzZ3vOjuA8Ndn7REC1n9_ZPi4ztVNtL
🔥Read More🔥
🚨 Emergency Preparedness Articles https://survivalknowhow.com/category/prepping/
🔪 Urban/Wilderness Survival Articles https://survivalknowhow.com/category/survival/
⛺️ Camping Articles https://survivalknowhow.com/category/camping/
🔥Let's Connect🔥
Join The Survival Know How On Reddit https://www.reddit.com/r/SurvivalKnowHow/
Sign Up For My Newsletter https://www.SurvivalKnowHow.com