What I Did To Prep This Week: August 9th – August 15th 2020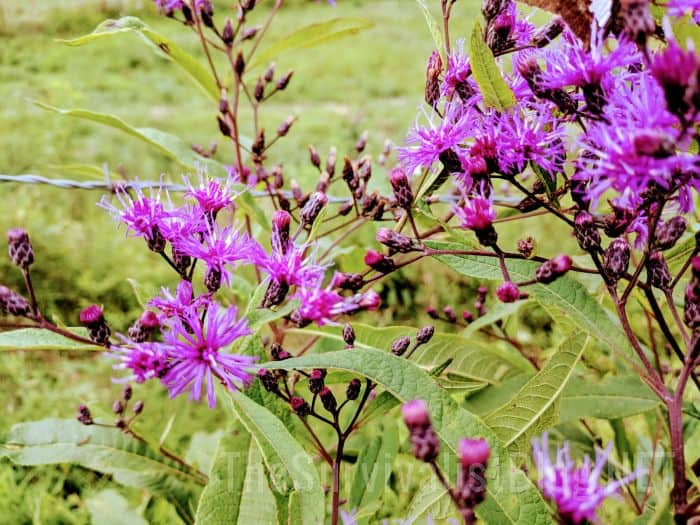 Hello Pack, I hope you all have been busy harvesting a robust garden and putting food up for the winter. The way food prices are going up and an increase in recalls, relying on a grocery store for food is not going to be wise.
This week we have been putting up more vegetables from the garden, making blackberry jam, and foraging the last of the medicinal or edible "weeds" of the early summer. I am doing my best not to over forage the chicory this year. I think I took too much last year and do not have as much growing wild.
Yarrow, goldenrod, wild carrots (Queen Anne's Lace) dandelions, plantain, purslane, and mullein have been at the top of our foraging list this week. I already picked the waning last bit of daisies and black eyed susan flowers.
The ironweed is almost in full bloom. My beloved always wants to brush hog in spots where the ironweed is before it has bloomed – causing the same discussion over waiting until I can harvest more to be had.
Native Americans used this beautiful and hardy weed to make an herbal tea that was used as a blood tonic, to relieve female issues, as well as childbirth. It is also really useful as a natural remedy for stomach pain, ulcers, hemorrhaging, and to treat loose teeth.
If you want to learn more about ironweed and how to harvest and use it, check out my guide on New Life On The Homestead.
A prepping cousin who is a master blacksmith just moved from Arizona to a few hours away for our bucolic neck of the woods. I am very excited to get to spend some time with him, as is my Bobby.
A few years ago a buddy of my husband's built him a blacksmith forge after I found a design and got the supplies as a Christmas surprise. Being trained at home, for free, by a master blacksmith is going to be a wonderful gift of its own.
In other preps this week we started getting more firewood chopped up and stacked for the winter. Once hay baling season is over or there is a lull in between cuts, chopping up trees that either fell naturally or had been cut and allowed to dry, hits the top of the "to do" list.
I am going to take the grandkiddos on a hike, and let them tie ribbons around all of the trees we can tap for syrup making shortly.
Maple trees will be the bulk of what we tag, but there are about 15 other common trees that can also be tapped for a delicious and sweet syrup. I love being able to infuse self-reliance and old-fashioned homesteading skills such as tree identification and tree tapping as a part of the grandkiddos' homeschool curriculum.
This Week's Questions
Do you forage or grow ironweed and how do you use it?
Do you think food prices will continue to rise because of the pandemic panic and riots?
Could you live for three months only on what you have on hand right now?
What improvements to your food security plan are needed so you can do so?
What did you do to prep this week?