Springfield Hellcat Review, by G.L.W.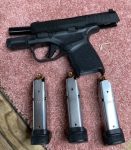 I am an amateur shooter at best and three years new to concealed carry. My goal is to give you my impressions of this newly-introduced gun and hopefully assist anyone considering one of these "micro-compact" handguns. I am in no way affiliated with Springfield Armory.
After beginning our family in 2015, it was clear that the best, most responsible way for us to protect ourselves was to relocate us into the beautiful American Redoubt. You can be protected by the biggest arsenal, but in my mind, if your own local government is against you, you are at a disadvantage.
Following a successful move and relocation to an incredible loving and accepting church community in the American Redoubt, I began to focus more on preparedness. Basic food storage, backup items, and firearms. My guns fall into basic categories like: family heirloom, hunting, and protection. I do not have an extensive collection. (Though my wife may disagree!).
For my "protection" battery of guns, I began with a Sccy CPX-2, which may be a review for another day. 600 rounds in, it still would not feed hollowpoints reliably, with about one malfunction in every 50 rounds. So I sold that gun and went back to my "ol' reliable" revolver, a Ruger LCR in .38 Special. I carry an extra five rounds in a speed strip and my ammo of choice is the Black Hills 100 grain Honeybadger. While I am happy to carry it, and a decent shot around 10 yards, I still felt underpowered.
With a recent addition to the family, identical twin girls (pray for us!), the feeling of being underpowered grew. I had a strong desire for a gun that could function as an easily concealable carry weapon, with as high a capacity as possible for home defense. It also had to be bomb-proof reliable, as I did not want a repeat from the "budget gun" category. I know some budget guns can be extremely reliable (my mossy Maverick is going on 10 years strong!) but having been recently bitten in that category by the Sccy CPX-2, I opted to stay away.
Why I chose the Hellcat
Disclaimer: While I will use the SIG P365 as a comparison piece, it is not my goal to bash the SIG. It appears to be a quality firearm, any comparison to the SIG P365 comes from being the Hellcat's most immediate and intended competition.
In my search I was drawn to the Springfield Hellcat and the SIG P365 almost immediately. Here were two guns, extremely similar to the deservedly popular Glock 43, that held double-digit rounds of 9mm. And SIG, Glock, and Springfield Armory are all very widely-recognized as reputable brands. Sounds like a slam dunk to me. What was difficult was the almost month-long compare and contrast process that led me down an absolute rabbit trail of extremely small details.
To make a long story short (why start now?) these guns are nearly identical in form and function in many ways. If a person is choosing between these two guns, their decision will likely come down to brand loyalty, feel in the hand, capacity, or a price-to-features analysis. Mine came down to just that: a price to features analysis.
When I read about, examined, and held the Hellcat, some features stood out to me. First off, with the included extended magazine, the Hellcat holds 13 rounds of 9mm in an incredibly small package, and 11 rounds in its standard flat base magazine. The efficient use of space on this gun is something you have to see to believe. I was immediately impressed with how it filled the hand. I have average size hands, only a glove size large, and I can reach all controls without adjusting my grip, yet it felt solid and reassuring in the palm. The SIG on the other hand, while it felt amazing, felt a tad more slender in hand and I had to slightly adjust my grip to activate the slide release. Both firearms were being offered with night sights, the Hellcat was being offered with a tritium night sight, but I heard that it has since been replaced with the red front sight. I purchased the tritium model. Not sure if this will remain true in the future, but if it is, it would be a loss in value compared to Springfield's original offering.
I was also impressed by the added value of the Hellcat. The OSP variant model was only $30 more than a standard Hellcat. It comes with a flat-faced trigger with blade safety. It comes with a spare 13 round magazine. It's grip texturing is smooth to the light touch, grips when gripped back, and covers more of the firearm. It comes with a non-proprietary rail system that any manufacturer can make parts for. All features that people pay to add or acquire, but are standard on the Hellcat.
I was not impressed by the overall look in comparison to the SIG. In my opinion, the SIG is one of the few polymer guns I have seen that is truly aesthetically pleasing. (But, of course: "You don't buy a car for the color." I heard my dad say.) I was also not impressed with the slide serrations. The Hellcat has a captured double recoil spring. It is very stiff. It may break in, over time. The slide serrations need more bite for positive engagement and they just do not dig into my skin the way that I like them to. The SIG's slide serrations are deeper. However, the Hellcat places serrations on the forward slide and the top of the slide as well. I grip the whole slide and rip it for positive engagement. The rear sights are squared and extremely sturdy. I have tested "tactical racking" the slide with one hand utilizing the sights on my belt and square surfaces. It works.
A quick word about magazines: While the SIG P365 currently has the largest capacity extended mag, it has been difficult to find! In fact, at my gun store, the P365 spare magazine had been replaced by a voucher from SIG for a free magazine mailed to you when their production caught up. I looked at this two ways: First, it means their product is in high demand, which is usually a good sign in my opinion. Second, and more concerning, they couldn't keep up with that demand and their spare magazines are hard to find. I like to keep three or four magazines at least. The Hellcat's magazines hold more rounds in their comparative sizes (11 and 13) and are still widely available. I was able to buy a spare 13 round magazine right then and there. That was a reassuring feeling. Not to mention, each magazine is about fifteen dollars less, compared to the SIG P365. A quick note, the eleven round magazine came installed with the pinky extension and a flat base option. I like the feel of the pinky extension, so i left it.
There is one other detail that led me to choose the Springfield, proprietary design. Everything SIG designs, they seem to want to keep "in-house". They are marketing themselves as a total outfitter. While this can be a good thing (you know your parts are always going to function together, because they come from the same manufacturer and are designed to do so) it is concerning to me in the area of availability. I prefer a firearm company that allows others to manufacture replacement parts and upgrades. I know it is risky to buy a handgun the first year it comes out, but I have a good feeling about the Hellcat. It checks many boxes concealed carriers are looking to check, comes in at a decent price, and so far has been reliable in testing. I hope the market for upgrades and parts catches up.
Testing
This part of the article will be brief. It is my belief that I am not an overly experienced shooter, little of my experience here will help you. I will stick to the feel of the gun and its performance, and avoid conversations about "grouping" since it was not impressive from my hand.
When my outdoor range finally opened up, I was able to go out for some testing. Maybe it is because I am new, but every time I go to shoot a new gun there is a tingle of anticipation and excitement, but also nerves. I was very excited about this one!
I had purchased 150 rounds of Winchester 124-grain FMJ for my first range day, as well as a box of 20 G9 "external" hollow points. If you have never done so, check out the devastation these little guys can cause, it is impressive. This is my preferred carry ammunition for being around town. I prefer Honey Badgers for my outdoor carry ammunition, and will be testing their 124-grain external hollow point next.
I set up my target at a conservative seven yards and got to practicing. Most of my shots were pulling down and to the left by a few inches, but still well within a range that I would consider acceptable for defending my family. I would like to improve this spread and will continue to practice at least monthly as well as pick up some snap caps for dry fire. This is unrelated to the review, but I believe I am "milking" the gun and squeezing improperly. Dry fire practice and a light trigger press should improve my placement and I will be getting some expert help and advice when I am able.
An Odd Firing Pin Design
There were no malfunctions or misfires with either rounds. I did not expect any, but it was good to not have them happen! The Hellcat has a feature that may contribute to reliability, but I am not experienced enough to know. It has a firing pin that is shaped like a triangle instead of a traditional pin. This leaves some odd-shaped indentations in the spent primers and I believe is designed to be a counter to light primer strikes. I attached a picture from after my range trip that I believe shows this detail.
The gun felt snappy, but not overly so. It was more comfortable to shoot than my LCR. The 13-round magazine provides some extra grip that I really liked. I was a huge fan of the U notch rear sight. It is easy to see and quick to get on target.
At this point in my experience, I don't really understand the trigger conversation beyond heavy and light triggers. This trigger is light, much lighter than I am used to with my LCR (which may explain the grouping low and left). Often the gun would fire well before I thought it was going to. The trigger reset is very short and very loud. I could hear it easily, even with ear protection on. I liked the flat face on the trigger and the blade safety didn't irritate me in any way. In fact, when I focused on my target, I could hardly feel it.
Holsters and Carry
One concern with purchasing a new weapon is the availability of holsters and aftermarket parts. While choices are somewhat limited, I found that it wasn't too difficult to find exactly what I wanted in a holster. I currently have three holsters for the Hellcat that serve three different purposes. They all receive regular use. I have included photos of all three holsters.
The first is my go-to for everyday concealed carry, the Alien Gear Cloak Tuck. It is a quality holster, it protects the gun, conceals it well, and doesn't cause my back to sweat profusely during summer carry. It is ideal for my favorite concealed carry position, behind the back at the 5 o'clock position and slightly canted. I find this position comfortable and easy to conceal. Alien Gear has an excellent lifetime warranty and is American made in the American Redoubt. They will cut the holster for a red dot sight, if you want one, and have molds for a few weapon lights already. I expect their offerings for the Hellcat to expand quickly.
The second holster is a pocket holster from Don't Tread On Me. It seems comparable to any other pocket holsters and I use it when I am carrying the Hellcat in a jacket pocket or a backpack pocket. I have used it for traditional pocket carry, but I am just not a fan of pocket carry. Perhaps it is because my pockets are not huge, there is not much space in there!
The third holster is a full Kydex outside the waistband (OWB) holster with retention made by a small business, Carey Concealment. I like my outside the waistband holsters to have at least some kind of retention, to prevent the gun falling out. I carry this one, slightly between behind the back and strong side, where I can still conceal the weapon but it is easy to draw. I enjoy outdoor activities like disc golf, hiking, and hunting, and this holster has so far handled everything I have thrown at it… and kept my gun in place! I asked for it to be cut for an optic, if I ever decide to try one out, so I don't have to purchase another holster.
Parting Thoughts
While making any large purchase can be an anxiety-producing experience, I am happy with my Hellcat. It may not be the perfect concealed carry weapon for everyone, it seems to check every box that I need it to and then some more I didn't need it to. It certainly outperforms my ability and I have plenty of room to grow into it. If you are considering a concealed carry pistol in this micro-compact category, give the Hellcat a try. I don't believe you will be disappointed!