CRKT Helical, by Pat Cascio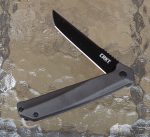 If you've been around knives for any length of time, you know the name Ken Onion. He is one of the best custom knife makers of all time, and he was the youngest knife maker to be inducted in the Hall of Fame for knife makers. I've never met Ken, but we had several conversations some years back, when I was doing an article on one of his collaborations with a major knife company. Ken lives in Hawaii – and I used to – and he is an absolute wild man to talk to on the phone. He is also a wealth of knowledge when it comes to making custom knives. I used to collect custom knives, and designed more than a few. But I could never afford one of Ken's custom knives. So, we have the likes of CRKT to thank, for bringing a number of Ken's custom designs, to the marketplace, and at very affordable prices.
Columbia River Knife & Tool, is a company known for their many collaborations with custom knifemakers, and I've been writing about their knives almost from the git-go. I've probably written more articles about their knives than any other writer out there. The owner of CRKT and I have been friends for a lot of years, just don't tell him I ever claimed we were friends – it would drive him mad, I'm sure…LOL! Rod Bremer, who owns CRKT is one of the nicest and most laid-back guys in the industry, and we really go at each other all the time – be it in e-mails, or on the phone – how he puts up with me, is another story, but the same can be said about me putting up with him…if you ever read our e-mail exchanges or heard our phone calls, or our all to infrequent face-to-face meetings, you'd think we were bitter enemies.
I really like that CRKT explores the outer universe when it comes to some "different" knife designs, they aren't afraid to reach out there, and market knives and other tools that you really need to take a second look at – many times – you might dismiss one of their collaborations as "ho-hum" at first glance. But you really need to read about some of the designs, and then hold one in your hand, and you come to appreciate what CRKT saw in the design in the first place. More than once, I've looked at a design on their web site and said "what the heck is that all about, I don't get it…" but I'm not closed-minded, and I'll request that sample, only to be pleasantly surprise at how much I liked the knife, once I held it in my hand.
Enter the new Onion-designed "Helical" folder, and this one really is more than a little different in many ways. First of all, it is a very slim design, the blade is only half an inch wide, we're talking slim, for a knife with a tanto blade that is 3.524 inches long. The first thing that you'll notice is how long the blade appears. When I read about this neat folder, I just wasn't all that impressed, but like I said, I'm not closed-minded – just because I didn't like what I saw, doesn't mean others would. More on this later.
The Helical can be had in either D2 tool steel, or 8Cr13MoV stainless steel, I elected to get the D2 tool steel, this is some tough stuff, and once you get a good edge on it, it holds it for a good long time. Machinists use D2 tool steel, to cut other lesser steels. My sample came shaving sharp from CRKT, and much to the dismay of some, it is made overseas – this is done for several reasons. First of all, it keeps the prices for CRKT products way down there – and I like a deal. And, to be sure, CRKT products are not made in any slave labor factories.
On the D2 model, the blade has a nice black oxide subdued finish, for that stealth look. The handle is made out of Aluminum, and it appears to be "twisted" –as if it was put in a vise, and twisted in appearance, very cool looking and it is subdued gray in color. The handle houses the frame lock, and the blade itself, has friction grooves on the top rear, for a secure place for your t
humb. And, to top it all off, it opened using the flipper. The blade locks open tight, too! I like the tanto style blade. Many don't like tantos– and I don't understand why. They can be useful for everyday chores as well as for self-defense. There is a pocket clip for carrying with the tip-up, but it is not reversible, too bad. The knife only weighs 3.6-ounces – so that is light in your pants pocket for everyday carry.
My wife, who really isn't into knives, really liked the Helical, and if something doesn't feel just right in her hands, she has no interest. My oldest daughter has more than a few knives, and my youngest daughter has a small knife collection – all three wanted their own Helical of their own – and they got them, too. So that speaks volumes, if you ask me.
I keep my Helical in my left front cargo pants pocket, where I keep my keys – several sets of keys – and the Aluminum handle have been really scratched-up – no fault of the material – just the nature of it…when I carry in my left front pocket, that means I use that knife for many of my cutting chores. Knives carried in my right front pocket are the ones I'm either testing for an article, or they are reserved strictly for self-defense use. The Helical has been in my left front pocket for more than three months now…the darn thing just grew on me, and I use it all the time.
Around my small homestead, there is always something that needs cutting – especially boxes that arrive almost daily via UPS, USPS or FedEx…and the Helical keeps pace with cutting boxes open. We also have a never-ending supply of blackberry bushes on our 3.5-acres of land, and this is one of the most fibrous material there is to clean slice through, but the Helical make easy work of it. And, believe it or not, I've used the Helical more than a few times in a restaurant to cut through some meat…I love the Coney Dogs from A&W Root Beer, and order the foot long versions most of the time. You just can't pick them up, without getting chili all over your shirt. Anyway, if you ask for a knife and fork, they will bring you a "spork" and that just won't suffice. So, I bring out the Helical and cut through my Coney Dog and use the spork to spear what I've cut up. Fer sure, more than a few people have looked at me cutting with this knife in a restaurant, but I don't care. I guess it can be called "restaurant survival."
Be sure to not let your Helical with a D2 tool steel blade get too dull, if you do, it takes some serious work to bring the blade back to shaving sharp. I usually touch-up my carry blades once a week, and they stay nice and sharp all the time.
The Helical has nice clean lines, and it is an attractive knife, to say the least. I like the way it rides in my pants pocket, too. It just seems to cut a lot better than you think it would, and I believe this is because the blade isn't very wide – it looks "puny" if you ask me, but it sure isn't – not in the least. At my favorite FFL dealer, one of the owners really doesn't like any knife with a tanto style blade and I don't understand why. If you do a lot of cutting every day , and they do at their shop, opening boxes, then the tanto blade really shines if you ask me – that little "pivot" section of the blade is just made for slicing and dicing if you ask me. Anyway, this fellow liked the feel and look of the Helical – other than the tanto blade style… Hey, you can't please everyone, all the time.
As always, Ken Onion, didn't disappoint on this design – he never does. He always seems to hit a home run. The Helical is a very simple design, and I've always said that simple is better, less things to go wrong with any device when they are simple in design and function.
The only thing you have to do is decide if you want your Helical with a D3 tool steel blade, or one with the stainless steel blade – the price difference isn't much – the stainless blade is $74.99 and the D2 is $89.99 – I don't think you can go wrong with either one of these knives. And, you'll be finding yourself reaching for this knife more and more – really!