WARNING! Masks Do Work! How To Find N95 Masks Now!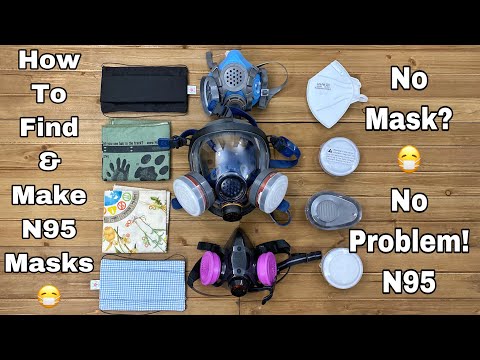 How to make N95 Equivalent Masks, Fabric Face Masks, No Sew Face Masks, N95 Face Masks. (Links for more Information Below)
Parcil Distribution: Full Face Respirators
Respiratory Protection
Filti Face Mask Material: Merv-16 Rated Material
Airo Collective Reusable Cloth Mask:
Reusable Cloth Mask
Wazoo Survival Gear: Foraging & Tracking Bandanas for DIY Masks Solutions:
https://bit.ly/2CFDnww
Recycled FireFighter Cotton Cloth Mask:
COTTON CDC RECOMMENDED MASK
IN DEPTH VIDEOS COVERING MORE PREPPING TOPICS
25 Items Every Prepper Should Stockpile:

24 Easy Survival Hack Everyone Should Know:

12 EASY Survival Hacks for Life Video:

10 Best Portable Lithium Ion POWER Stations:

12 Forgetten PREPPING ITEMS:

Become our Best Friends on Instagram!!
DFS Instagram:
@dropforgedsurvival
DFS Twitter:
Tweets by ForgedDrop
Facebook friend page:
http://www.facebook.com/Chris.Thorn1985
DFS Fan Page:
http://www.facebook.com/DropForgedSurvival
My Youtube Channel Camera Gear & Equipment:
Freefly Movi Cinema Robot: https://amzn.to/2I8miz7
Blue Yeticaster BoomArm Mic Kit: https://amzn.to/2L9MKpV
RODE Video MicPro+: https://amzn.to/2QsqJIR
Alzo Camera Rig Cage: https://amzn.to/2TKPbT1
GoPro Hero 7 Action Bundle: https://amzn.to/2FUPffc
GoPro POV Mouth Mount: https://amzn.to/2Gm9gwc
Moment Wide Angle Lens: https://amzn.to/2Dt4XeC
Moment Telephoto Lens: https://amzn.to/2GBg2NU
Moment Lens Case: https://amzn.to/2TG7Gbb
Benro Aero 2 Travel Tripod: http://amzn.to/2DsuxOO
Godox 64 Small LED Lights: https://amzn.to/2v4BPH4
Neewer (2) 480 LED Light Kit: https://amzn.to/2CIkAyk
Joby Gorilla Pod 3K Kit: https://amzn.to/2CJnJ0R
Manfrotto Lumimuse LED Lights: https://amzn.to/2B340Ji
Disclaimer: I am not a medical professional and none of these companies are making any claims other than what I found on their Websites. With the Shortage of N95 & P100 Respirators. I want this to serve as a Helpful guide to put more PPE into the Front Line Works, Essential Employees, and At Risk Individuals.
#makefacemask #FabricFaceMask #N95facemask