3 DIY FACE MASKS ⎮ No Sewing Required!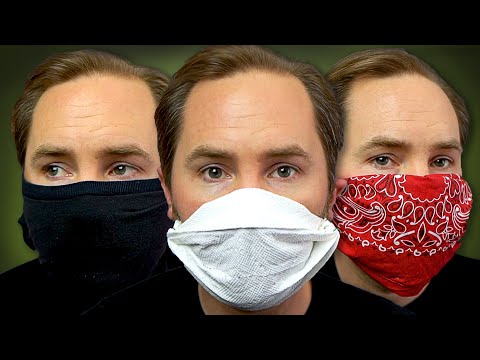 3 DIY face masks that do not require sewing. These homemade masks are similar to N95 Respirators or surgical masks by protecting your nose & month but do not provide the same filter capabilities. All of these are easy to make in less than a minute and with household items. I go over how to make a T-shirt Face Mask, a Paper Towel Mask, and a Bandana and Rubberband Mask.
1:15 Paper Towel Face Mask
2:21 T-shirt Face Mask
3:21 Bandana Face Mask
DISCLAIMER: I am not a medical professional and nothing in this video is medical advice. Please consult a medical doctor for any medical advice regarding facemask.
Read the CDC's recommendation for homemade face mask here https://www.cdc.gov/coronavirus/2019-ncov/hcp/ppe-strategy/face-masks.html
Watch my video comparing N95 Respirators to Surgical mask here https://youtu.be/ftZy5s-klUA
Read the cited N95 respirator vs medical mask study here https://www.ncbi.nlm.nih.gov/pubmed/31479137
🔥Recommended Survival Gear🔥
{Support the channel with these affiliate links}
🔥Shop At On My Store https://amzn.to/2sMkTHC
🌲Hammock Camping Gear https://amzn.to/39QZQ79
🔪Prepping Supplies https://amzn.to/2tFkIxy
⛺️Camping Gear https://amzn.to/37LHkvm
◾ESEE 5P Black Tactical Survival Knife w/ Sheath
https://amzn.to/2JjxPsh
◾Gerber LMF II Infantry Knife
https://amzn.to/2Q0Us74
◾LuminAid Lights
https://amzn.to/2D9HQI2
◾550 Fire Cord
https://amzn.to/2D9RY3K
◾Mountain House Food Storage
https://amzn.to/2SvWKNs
◾LifeStraw
https://amzn.to/2SjvGRr
◾StrikeForce
https://amzn.to/2Q9b6S0
◾Outdoor Vitals StormLight
https://amzn.to/2Q2w1Go
🔥LET'S CONNECT🔥
The Blog
https://www.SurvivalKnowHow.net
Like me on Facebook
https://www.facebook.com/SurvivalKnowHow/