What I Did To Prep This Week: Apr 26th – May 1st 2020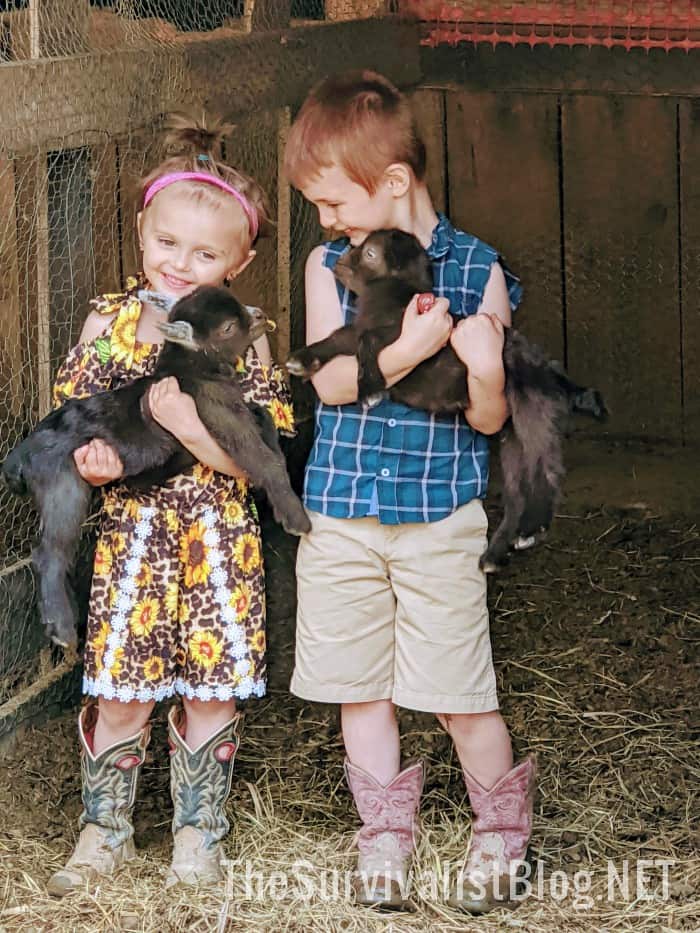 Hello Pack, I hope everyone is well – and Thor1 has been heard from. It does not take long for the absence of any follower of this column to be felt, that is for sure. Folks looking out for one another, in my mind, is what prepping really is all about.
One of my prepping mentors, Survivor Jane, likes to say, "We are all in this together." And she is right. The more folks who are prepared, the less panic, marauding, death, and pestilence there will be when the SHTF.
We have gotten a lot done on our survival homestead this week thanks to consistent nice weather – with only scattered rain. Oh, be sure I am still living on a bit of a mud farm, but there is more solid ground than mushy.
Planting a few dozen free trees from our county soil and water conservation department took up an entire day. Because of the pandemic, many trees that had been ordered were not picked up and were handed out first come, first serve.
We take advantage of the sale every year to replenish the trees we lose to weather or cut down for firewood.
Although we have hundreds of trees, possibly thousands, our survival homestead is being built and maintained for use by future generations as a part of our family self-reliance plan.
Pearl had two kids, a male and a female, so that was the major excitement for the week. Both are healthy and doing well. We will sell the male kid once he is weaned, and keep the female.
I really do not need another related female, but she is really sweet, the grandkids love her, and she already seems smart enough to do more than her fair share of brush clearing.
Auddie named her Rosy. I am going to breed her with a tribe member's Billy goat once she is old enough to further strengthen and diversify our herd line. If she is like her mother, Rosy will also be an excellent milker.
Without close inspection it is really difficult to tell our Jumbo Pekin ducklings from the rest of the flock now. The Khaki Campbell ducklings are a smaller breed, so it will take weeks more for them to look like they are nearing maturity.
The ducklings melded into the flock perfectly, as have our newest batch of chicks.
Every day they patrol through and around the shelter house and playhouse area that serves as the only real traditional backyard space we have here on our homestead.
They also meander around my apothecary patch and ground growing plots feeding themselves on insects that we do not want in the garden, or biting us when enjoying an outdoor meal.
We lose "good bugs" that are beneficial to the garden as well, but that is the cost we have to pay not to be eaten alive by mosquitoes, and to allow the flocks to earn their keep while eating a natural diet.
In other preps this week, I planted more Jerusalem artichokes, lettuce, onions, carrots, and cabbage. The local Amish greenhouse is finally as full as it normally would have been a month ago, so we can get the rest of the garden plants we need.
We grow a lot from seed, but are putting in even more growing plots this year to increase our food security.
The 2020 pandemic has more people growing their own food and herbs, which is a good thing, but it is causing the farmer's market in our county and two adjacent ones to sell out of plants far more quickly than normal.
Online mega garden vendors like Burpee and Guerney order processing delays and many out of stock items, as well.
some of my homemade dandelion infusion
We also made copious amounts of all natural soap, replenished my stockpile of dandelion infusion, made elderberry syrup, built another closet and a buffet table out of barnwood, and did some work on our farm road after all of the abundance of rain caused some craterous ruts.
I have written many times about the need to save your own seeds instead of relying on a greenhouse to buy live plants from when the spring gardening time rolls around, because one day that is not going to be a possibility. This may just be that year.
Barnwood Buffet Table
We have made excellent use of all the wood and hand hewn timbers from the 1800s era barn that sadly had to be torn down because it was no longer stable. It is at the lower front of the property by the hayfield and the road – which it was going to fall into.
All of the walls in our house were exposed poured concrete from the chair rail down when we moved in. They are all covered in barnwood as shown in this photo.
We have made cabinets, planters, outdoor furniture, drop leaf sewing table, storage bench style seats, shelves, closets, pantries, and a 12 foot by 4 foot dining room table and a matching island is the next project to make.
Not only did we save thousands of dollars turning a spartan hunting lodge into a beautiful rusting homesteading house, we were able to give a second life to the great barn wood that was cut and milled right here on the property. I am so glad we were able to preserve it.
Meat prices went really high due to the pandemic as well. We bought two whole hogs ready to butcher, and processed them in our butcher shop to bolster our meat supply. We may be doing the same thing with a cow later this month.
I hope the 2020 pandemic has all of you who do not live in rural areas really start to rethink where you are living and how it affects your level of preparedness.
Food security and being huddled in a densely populated area with dang little space to move about are two very important reasons to start planning a relocation to a more sustainable locale.
Our county did not have a single case of the new disease until a few days before the whole state was planning on opening back up. The local screen printer even had shirts made up to note we are the only county in the total of 88 that was disease free.
Two sisters who work in a nursing home in Columbus brought the illness here, but there have been no more known cases.
Honestly, I really think it went through southern Ohio earlier this year like it did in West Virginia, and we all just thought we got a weird flu and had a higher flu season than normal and then got over it.
Hospitalizations were up a bit with what was thought to be flu or pneumonia related illness, but as far as I can tell, everyone recovered.
This Week's Questions
What has the shutdown of meat plants and run on gardening centers caused you to plan to do to become more food secure?
What were the biggest pandemic downsides where you live?
Other than a need to only a block or two from a hospital, why would you choose to live in an urban or suburban area instead of a rural one, as a prepper?
What did you do to prep this week?