What Smart People Buy During a Pandemic!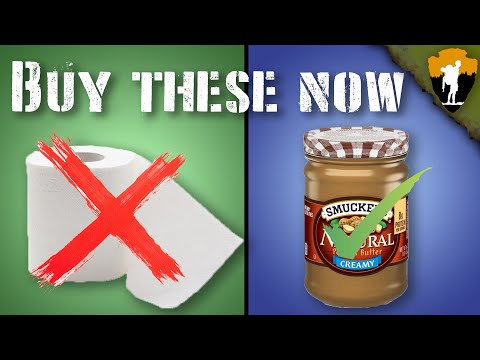 The WHO just declared this a pandemic and the United States declared this a national emergency. Here are the items and gear you should buy and should not buy to prepare to shelter in place during this pandemic.
Ever disaster requires different survival gear and preps, this is no different. I am seeing too many people stockpiling the wrong equipment and preps for this specific disaster. You don't need toilet paper or gas or weapon. What you need to do is shelter in place for as long as possible and that you need to have a stockpile of food to survive.
🦠Coronavirus Playlist 👉https://bit.ly/2wkEHU4
🔥Recommended Survival Gear🔥
{Support the channel with these affiliate links}
🔪Prepping Supplies 👉 https://amzn.to/2tFkIxy
🔥Shop At On My Store 👉 https://amzn.to/2sMkTHC
◾ESEE 5P Black Tactical Survival Knife w/ Sheath
https://amzn.to/2JjxPsh
◾Gerber LMF II Infantry Knife
https://amzn.to/2Q0Us74
◾LuminAid Lights
https://amzn.to/2D9HQI2
◾550 Fire Cord
https://amzn.to/2D9RY3K
◾Mountain House Food Storage
https://amzn.to/2SvWKNs
◾LifeStraw
https://amzn.to/2SjvGRr
◾StrikeForce
https://amzn.to/2Q9b6S0
◾Outdoor Vitals StormLight
https://amzn.to/2Q2w1Go
🔥LET'S CONNECT🔥
The Blog
https://www.SurvivalKnowHow.net
Like me on Facebook
https://www.facebook.com/SurvivalKnowHow/