Hazard 4 Grayman Series Patrol Tactical Backpack Review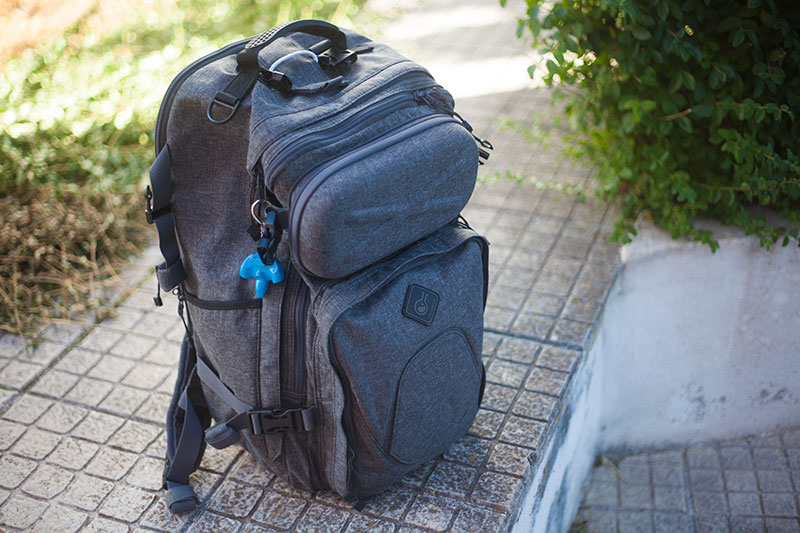 Tactical backpacks are always a tricky proposition. Either they make you look like you just got off the set of Rambo or they are jam packed with performance compromises in an effort to pass as a normal pack.
The Hazard 4 Grayman Patrol is one of the few true blue tactical packs that essentially straddles the line between yuppie hiking gear from REI & bonafide hard-use gear. The design is very modern, all performance and yet visually quite neutral. This is an important consideration because being a grayman is all about appearing neutral despite being anything but subdued when the going gets tough.
Hazard 4 Grayman Patrol Tactical EDC Backpack – Amazon / eBay
The general silhouette of the pack is reminiscent of another Hazard 4 I reviewed – the Officer (which Elise in fact uses as her EDC pack nowadays). Beyond the change in outer storage, it's essentially the same bag but without being drenched in molle straps. I received this badass backpack around 9 months ago, and have been using it religiously since. Judging by the photos below you might think these were taken on the first day, but no, we just took them now.
This backpack has been dragged trough airports, bi-weekly grocery trips to and from the supermarket (carrying lots of heavy food cans, jars, and alcohol since I don't let Elise carry those), and it looks as sterile as the day I got it.
The material is a weird super high quality poly'ish superman fabric. It looks matte and almost like felt, yet it repels water, doesn't hold on to pet hair, and rejects dirt – at least more than most bags I have handled. It's weird stuff, but it works like a charm. I don't think its a compromise in any shape or form compared to the traditional hard use fabric on the Officer pack.
Another difference of note is the thermoformed front pouch/pocket. Its shape-holding construction does mean that on a superficial level – it doesn't squish down quite as much as Officer pack.
That said, compression straps throughout, and it is small enough to carry on a plane (tested myself in our recent move to Portugal). The ability to load your pack up and then squish the whole thing is freaking awesome and makes travelling much, much easier. Another fringe benefit is the ability to compress items so that nothing moves around. Elise can wrap her lenses in various jumpers, slam the compression straps and you know it won't go anywhere.
I always used to be weary of "extra features." This idea that adding crap on a bag to solve problems just seemed to create more problems, but since I have been regularly rocking Hazard 4's gear, I think it's worth mentioning that the difference is based on how well designed and implemented those "extra features" are. I will say that Hazard 4 does have a waist strap that comes as standard as well as a chest strap, but I can load up the bag to around 10 kg and happily carry the bag around with no comfort issues without them on. Consequently, I took off the extra straps and run a more barebones/normal looking pack option.
That said, choices are good and if you want a subtle undercover pack that's loaded with straps (which then may negate the subtlety?), you most definitely have that option to take advantage of here. If you really want to.
As with my other two Hazard 4 packs (besides the Officer, I also have the Switchback), it has the thingy on the top. I have never used it, and likely never will, but some of you may, so here you go. Like everything from Hazard 4, its bombproof with multiple velcro panels, double stitching and all that good stuff.
Top handle is the same old super comfy rubbed overmold one – proof that if it works, don't change it. That's the girl's hair elastic on the top, by the way – definitely not a permanent feature.
As you can see below – the bag ain't small. Then again folks – I use it to go shopping and I don't get more looks (than normal). It's relatively inconspicuous and at most you will look like a yuppie hiker. It's very very inoffensive – sorta like a blue Spyderco Endura.
Oh, and thermo molded back panel – very, very nice folks. Portugal is hot and the girl & I don't yet have a car. That means Ubers, uphill walking, and loads of sweating. We both wield Hazard 4 packs at the same time, and I can honestly say that whilst it's still very noticeable that you are wearing a large backpack, the reality is that it would be far worse if I was rocking your run of the mill generic sports backpack.
If you were wondering why we take these packs for our shopping – it's not just for the review. Glance down below and have your question answered! We are talking a capacity of around 8 wine bottles, a grilled chicken and 2 bags of fresh peppers with a pack of hummus. Try comfortably stuffing that in your Jansport & reaching home with no back pain! 😉
If you are not impressed with my scientific hand size comparison, the main compartment is around 30 L capacity, with maybe 2 L capacity on the external compartments. Give or take a bottle of whisky.
In terms of "extra" storage compartments – the thermo molded eyewear pack thing is freaking enormous. You could fit half a dozen sunglasses in there and frankly, that does make the pouch far more versatile than otherwise assumed.
I should mention that whilst it is rigid'ish, the ish should be emphasized. I think you could quick sit on it for a split second and the sunglasses would be alright but if you step on it…? I wouldn't wager a happy ending.
And of course, the organizer front section. It fits a lot, very accessible. I rarely use it, since I carry my EDC's closer to my person (pockets & more recently a Pacsafe Metrosafe Ls100), but I understand the appeal and as far as having lots of little compartments go – Hazard 4 did it properly. I don't personally use 'em but the nature of the material means you are not "forced" to use a bag in a specific way, unlike the rigidity of Maxpedition shoulderpacks (like the Jumbo I reviewed) as an example.
The conceal carry sleeve thing still exists. I can't legally carry a firearm here & never have in the past. I can't comment on its access in a time of crisis, but the laptop sleeve on the back is fantastic and easily fits my 15.6″ laptop. Lovely.
And finally, you have another large front compartment and the 2 water bottle holders on the size. Very sleek, very functional, very tough.
The carrying handles are fantastic. Once again just perfectly thought out, and yes, it's very nicely stitched in. I walked around the airport carrying the Grayman Patrol like this and even though the bag was loaded up and swinging side to side – I felt zero worries about stitching getting loose. This is resilient with a capital R and worthy of the Hazard 4 branding.
Seiko SARB033 Automatic Wrist Watch – Amazon / eBay
If a CIA operative had a bag, the Hazard 4 Grayman Patrol would be it. We are talking greyed-out stealth and bad ass, but casual enough to rock at Disneyland with the munchkins. I have a lot of bad ass gear folks. This is one of the few things I have reviewed that I use literally almost everyday.
If you need a tough, comfortable backpack but don't want to look like a Marine, this is a great option. Yes, its a smidgen expensive, but it's definitely worth the price and the durability makes it cost efficient (please share this wisdom, if we all say it – our wives may believe it) in the long run, much like a high quality knife or pair of boots.